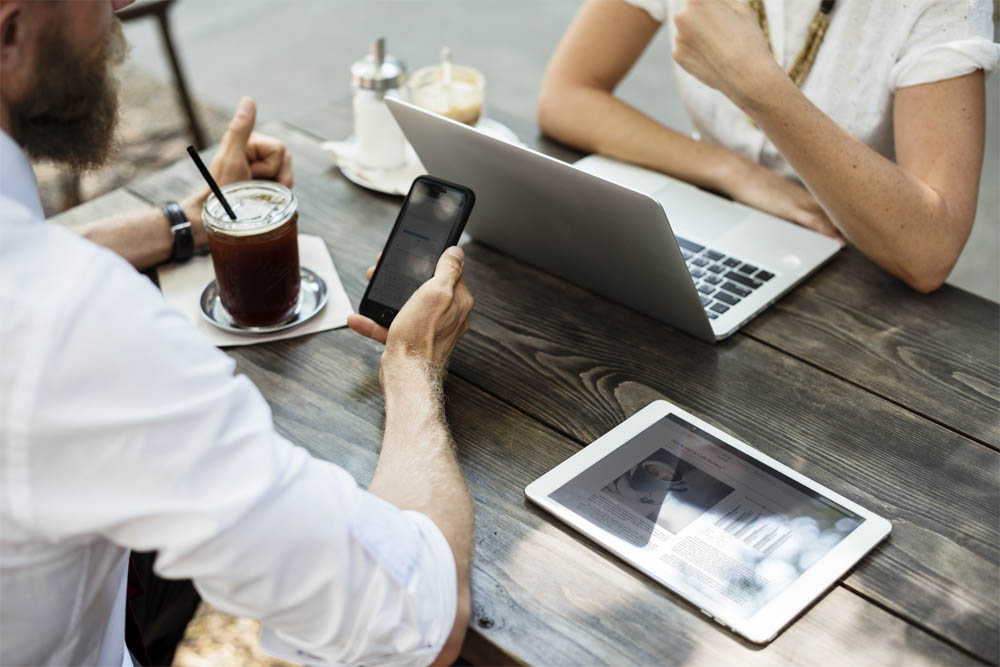 This is a contribution by Belinda Irvine.  Belinda is a Digital Project Manager, focused on website planning to deliver sites with strategic SEO and Conversion capabilities.
You need a website.  Now what?
You've had a great idea for a business.  Done some market research. Developed a business plan (even if it's only in your head). And now you need a website.  What next?  I hate to tell you, deciding on the style or look of your site and paying your money isn't where your commitment ends.  Proper website planning makes all the difference in the end result, and it's not just up to your chosen web designer.  It's on you too! Let's run through how a smooth the website development process works.
Your goal is to not end up wanting to divorce your developer. You think I'm joking. I've seen it time after time, where the client's expectations don't match the website developers process or contract and things head south.  Website planning is a complex process.  You can hire a web project manager to be the person in the middle but if you're keeping costs down, you will need to roll up your sleeves and get to work!
How to choose a website developer that's right for you
Finding the right website developer can be difficult.  I find personal recommendations work the best. The are so many developers it can be difficult to know where to start.   So far you've met a couple of the web designer cliches.  The techno IT dude with little style who lacks in creativity but boy will he build you a high performance website.  The Graphic Designer who has rockin' style and knows how to build drag and drop websites  but doesn't know the technical side as well as a Developer.  Finally, there's the Graphic Designer who doesn't tell you they will design your site and then subcontract the building of your site to a third party, usually in a far flung place providing no "legal responsibilities".
If you're on a tight budget, you'll be looking for a "one woman show" – a freelancer who will work with you on your project.  Keep in mind that this means if she gets sick, your project comes to a halt.  If her kids get sick, if she has a personal drama etc you will need to be flexible and forgiving.  A larger agency will have a team to back you up if one designer falls.  This costs more but ensures a more efficient build.  Remember, you can't expect leather seats in a Datsun… so if you're opting for a soloist, be prepared for soloist delays.
The most important factor in choosing a web designer is trust.  Just like they know very little about how you run your business, your web design skills are no match for theirs.  You'll be putting a lot of trust in their expertise.  Make sure you feel it!
Website planning isn't quite what you'll expect
Any developer worth their salt is busy.  It's unlikely to be a case of having tons of developers chasing you for work… you'll be mostly fitting in with their workload!  Getting a good, fast but affordable developer is key and securing a spot in their schedule will depend on you!
Know what functionality you need before you start looking
Have a "must have" list and a "wish list" for things you'd like on your site.  It MUST have good SEO infrastructure…. it would be nice to have a log in portal for future use but it could go on "phase two" if it had to….
Know your budget.  Don't worry about what things are going to cost yet.  Know your budget first.  If you aren't a "writer" remember that some of your budget will need to go to a copywriter.  You may also want to work with an SEO, a CRO, a photographer and a logo designer.  These are all elements you'll need for your site so really consider where you want to spend budget.  Stock photos are a cheap alternative to a photographer but they mean your site may lack "pop".  You can DIY your copywriting but it might sound "naff".  You can skip the CRO (conversion rate optimisation) but your sales could suffer.  Decide in advance where you'll put your budget NOW and what can go on the "phase two" wish list.
Once you start talking to designers and developers, you'll know whether your budget is reasonable for the functionality you want.  If it's just not going to happen on your budget, you'll need to move more items from essential to wish list OR keep saving up!
Have a "rough idea" of what you want it to look like.  There's nothing worse than a client that can't make a decision about their own business!
Questions to ask to sort the hay from the chaff 
Will you be designing and building my site yourself?
My website needs THESE specific capabilities, how will you manage that?
This is a list of the features I need, are ALL of these covered in the scope/quote?
What CMS (content management system) will you be using?  For "website newbies" WordPress is the answer you want to hear.  If you're hearing anything other than WordPress, Joomla or Drupal, your risk of problems down the line increases dramatically.  For ecommerce, you want to be hearing WooCommerce, Shopify or platforms of a similar size and functionality.  The more "unique" the CMS, the fewer options available for support, therefore the more you'll pay!
What is a reasonable delivery date?  What do I have to do to help you meet that delivery date?  I would like to make progress payments to ensure timely delivery, is that suitable?
Can you please provide me with a "scope" outlining exactly what will be delivered, when it will be delivered and what it will cost?
Can you provide me with a list of all the things you'll need from me and when?
Template site specific questions
Template sites are cheap and fast to build and are therefore the first choice for start up businesses.  They require less website planning but will usually be less flexible when it comes to functionality.  If your web designer recommends a template don't look at the colours and pictures – look for functionality.  If you're going to use a template, it should be a repuatable WordPress template.  If you choose a template by a company that codes its own and uses its own CMS, you're STUCK with them – so they can put your hosting fees up 2 billion percent and you're just stuck!
How will you guarantee my site will be both original in appearance and "future proof"?  Can my "wish list items" be "added" without too much expense?
Is this template regularly maintained and compatible with WordPress updates?
Will my site be reasonably priced as you're using a template, not doing the bulk of the coding yourself?
Can you guarantee the template will allow for all the functionality I need AND be SEO and conversion friendly?
Is the template "trim" – or does it require a million lines of code to make it pretty?
Is the template from a reputable source and how many embedded links does it contain (and to where)?
Will this template lock me in to a specific hosting company or make it very difficult to change up?
How many plugins will my site need and what are their costs?  Will they have a negative impact on site performance?  Will they cause me headaches when I update my WordPress versions?
If I don't like the design, how many revisions are included in the quote?
Start planning your website build
You've contracted a developer and you're about to get started. But, you have no clue how the website development process works.  Your developer knows the steps, they follow them every day and they'll happily tell you what they are. But, they're unlikely to chase you.
If they're anything like the developers I've worked with they're super busy with more than one project on the go. They'll simply move onto the next one and wait for you to get back to them. Unless project management is included in your contract with your developer, its your responsibility to manage your commitments and to give your Developer what they ask for in a timely manner.
Website process planning
The process will vary from developer to developer. Ask yours how the process will work? What will you have to give them and when? What are the time frames? One of the biggest issues with website development relates to content. Ask your developer if they will be uploading your content into the site and if so, how many pages.
Will they upload the content for the main pages?
Will they upload content for all the pages?
Does this include blog posts?
Will they transfer all your content from your old website to your new one?
Do they prefer to provide you with wire frames for you to "fit content to design" or do they need the content first so they can design "around it".  This is an important question as they may not even start with your design until you've provided completed content.
Will there be "page templates" provided – for example will all product pages be designed for your needs or is it just going to be the "default" lay out.
How much space is needed for "Calls To Action" and other conversion driven content?
You are responsible for providing website copywriting
If you're not writer or haven't the faintest idea where to start, then you'll need to hire a professional copywriter. You'll need to complete their brief and then work through the copywriting process.  Writing the content to your website and sourcing or taking images is more time consuming than building your website. But it has to be done.  Creating content is your job, web designers may find you stock photos but that's about the extent of their content input.  Content is a major part of website planning and is usually an "after thought".  That's a big mistake!
Learn more about our copywriting services and content creation.
A good web copywriter will provide you with both SEO Keywords (including meta tags and internal linking) and Google friendly copy that is conversion driven.  Not all copywriters specialise in web copywriting.  Look for a web copywriter who knows their stuff!  Note that your web designer will need your keywords for each page up front so they can create SEO friendly URLs for each page.
Planning your deliverables
Sample Sites

Provide at 2-3 samples of websites you love.

Brief

Write a detailed brief about what it is you want. A brief is a fancy word for a list or description.  Your web designer will probably provide you with a brief to complete. It will include questions about both functionality and style.  Take care to answer the brief as thoroughly as you can.  A good brief creates a website closer to what you want!

Brand

Your web designer doesn't know your brand or vision like you do.  Make sure you know your business well enough to know what you want to achieve. Really think about how you want your brand to appear online.  Start with your logo and style sheet (if you don't have one of these you need to create one).  And while you may LOVE LOVE LOVE a fancy font, remember that non-standard web fonts can look wonky – it's best to stick to standards for your main text.

Draw a homepage layout if you know what you want

Keep an open mind though – your web developer may know something you don't about homepage layouts for conversion and performance.  Too many bells and whistles can harm your site's chances of success.

Provide a list of the pages

Think very carefully about all the pages you want on your website.  This will form the 'bones' of your navigation.  Your web designer will create navigation that's easy for users – adding more pages down the line could create messy navigation.  That's bad for users, and for performance.

The forgotten features

Yes, you need social buttons, a shop and a blog.  You're all over that.  What about newsletter sign up? SSL certification? Reviews capabilities? The capacity to "upsell" in the purchase process?  A thank you page for after the user has taken an action (this is essential for tracking goal conversions in Google Analytics).  You will need Google tracking codes and possibly social pixels too.   Do you have your website privacy policy, copyright page and usage terms and conditions ready?
Are you a local business?  You'll need embedded maps and NAP (name address phone) information where Google can see it.
If you've specified SEO as a priority on the site, you should also ask your designer about meta tag optimisation, site speed optimisation, canonical tags for eCommerce, nofollow strategies for non-ranking pages, AMP mobile pages, Schema Mark Up and post launch 301 redirects (if you have an "old site")
The first block of essentials to give the developer
The addresses of all your social media accounts
Give them your login to your host and ftp
Give them access to your domain host
Ask them about purchasing an SSL certificate
Create a generic gmail email address to link your Google accounts to
Document the email address and the password
Send them a link to dropbox or google drive for the photos you want to use
Send them your phone number, email address, physical address & postal address.  The address you display on your website must remain consistent across all mentions of your business online.  Decide EXACTLY how you want to express your address, right down to the comma!
There is a lot to consider and a lot of it falls on you!  If you don't take an active role in website planning, your dream site simply won't go to plan.  Yes, this will take you days to put together but it will take you weeks or months to revise a build that misses the mark.  Your web designer may charge you extra for too many revisions… so it pays to get your ducks in a row from the start.
The Build Stage
The developer will get to work on a "staging server" – that is a website that looks like a real website but is hidden away from the rest of the world.  Once they've completed the first draft of the design they'll give you access to the staging server.  YOU SHOULD GIVE FEEDBACK NOW.  Don't wait until the site is about to go live to ask for changes.  This is where you get the look and feel of your site just right.  Take your time, think about it and give solid feedback.  What you may think is a small change could delay your site's launch and blow out your budget – never leave it to the last minute to ask!  Website planning is all about working together to make the process smooth and simple.
The build stage usually takes 2 weeks to 3 months depending on the complexity of the site.  Throughout that time, you should be super responsive to any questions and quick to provide anything that the developer needs from you.  Don't just assume "she's working on it" and stop answering emails!
The Launch Stage
STOP!  Do not go telling the whole world that your new site launches next Tuesday and the count down is on!  Moving from a staging server to a live server isn't an instant thing.  Your hosting company may take their sweet time.  You may find that the settings on the hosting server cause wonkiness and little problems.  You will SOFT LAUNCH.
Your soft launch allows the web designer to properly test the site's appearance on all types of screens and in all browsers.  It allows for bugs to be traced and stomped on.  It allows time for redirects to be put in place.  There are a whole list of "little things" that can happen at launch that you want fixed before you send the world to your site.  You want them to comment "WOW what an amazing site" not "Dude, this font looks funny".
You should spend the week or so after soft launch doing your very best to find problems. Remember that a few bugs are pretty standard so don't think your developer has done a poor job just because one link isn't working!
Your developer will likely give you a training session on how to use the site after launch.  Take them up on the offer, it will save you a lot of Googling down the line!
You should be given a time frame 1-3 months to go back with any more fixes/bugs you find after you start using the site. Make sure you are given this option. You'll never find all the issues in 2 days, it's not until you start using the site these items will reveal themselves.
Once everything is looking good and you're feeling confident, you can then "launch" it to your social media followers and clients.  You should then start monitoring Google Search Console and Analytics to track the progress your site is making and to get a head's up of any issues.
Best way to manage the development of a website
When I contracted a developer to build my first website, all written communication was via email. Today it's different. Yes, there's email, but often there's too many emails. Things get lost. Attachments need to be resent and tonnes of wasted time.
I recommend using a project management or productivity tool like Trello, Basecamp, Asana or my personal favourite Active Collab. There's a thousand and one ways these tools can be used. Here's two examples to illustrate my point.  Ask your developer if she is already using one and sign up!
The Task Method
You or your developer can enter each task with due dates. Each task is allocated to a person and is then moved to the board corresponding to the stage it's at. Everybody knows where everything is at, at all times.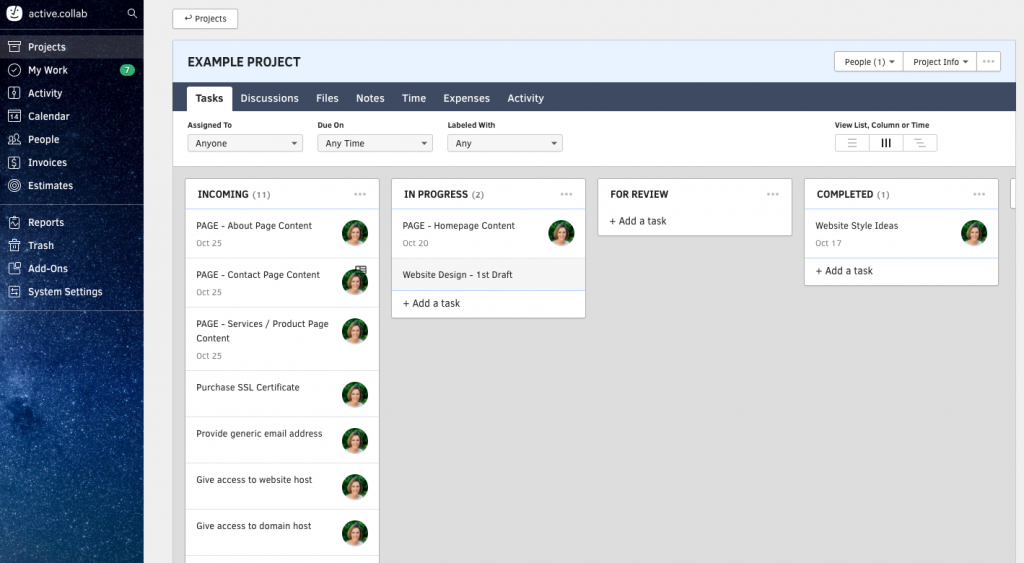 The Discussion Method
Alternatively, you can have discussions based on topics. This allows you to keep track of all discussions and updates in one place. There's nothing worse than hunting through emails or Messenger chats looking for what was said about something a few months back.  Blurrgggh.  Remember, a project management tool will only help you if you and your developer uses it.
Professional Website Planning
Just like a wedding, the partnership between you and your designer and the resplendent day that is hard launch… takes time and copious amounts of planning.  If you've never done it before, it's all too easy to fall for newbie traps.  For most businesses, it's just simpler to call in a Digital Project Manager.
What does a Digital Project Manager actually do?
Lots of the stuff listed above.  You'll still need to be an active participant in the building of and feedback around your website.  What you won't need to worry about is making sure the techy stuff is done.  You won't need to manage copywriters and the web designer.  You'll simply be a font of opinion and information… everything else will be handled on your behalf.
No matter who builds your website (this applies even if you're building it yourself), you have obligations and a list of things you need to do to ensure you receive the website of your dreams. Follow this process and my list of suggestions and you'll be in the best position possible.  Website planning means learning a lot of new information on a relatively tight deadline but the results will make it all worth it.