Stop hemorrhaging your marketing budget on SEO services that don't fill your inbox with profit!
Any small business can get more web traffic by using our tried and true SEO tactics, because search engines adore what we do. Let's teach them to adore you too.
Does this sound like your small business SEO story?
You've been made big promises. Some SEO company locked you into a long contract to spend (quite frankly more than you'd planned) each month. Month after month you fork out money. Lots of money. Crazy money. You're pretty sure you're not getting much return on that investment. In fact, they won't even show you how to monitor that yourself.
But, is it too late? Has the damage been done? Some of the world's biggest players have been taken down by bad SEO. Google updates its algorithms every single day. Is today the day your business goes under because of bad SEO?
It's time to jump ship.
If you're paying $1K a month for SEO and not seeing results, you're not just down $12K a year. Let's say you're missing out on $5K a month in sales by using SEO that's just not working. You may just be down $72,000 a year, by staying with a deadbeat SEO company.
Start on budget, grow on sales – it's simple!
Meet Miss J.
She describes herself as "Risk Averse" so she didn't want to invest heavily in SEO unless she knew for sure that it would deliver ROI.  She started with us  on just $1k a month… Here's actual screen shots of how her site is performing now, compared to the same period last year!

But it's not just about bottom line. Great small business SEO is an investment. It grows with your business. When search engines fall in love with your website, it's a relationship that blossoms and grows your business. How do you spark a romance with a search engine? Be authentic. Be true. Be all about quality and the customer. Isn't that just what your small business is all about? Luckily, that's what ours is about too!
Rebecca's Story
Rebecca owns a boutique graphic design firm in Brisbane.  We worked with Rebecca to beef up her digital presence and got her perched in the number one spot for her MAIN industry keywords – despite her competitors having MORE EXPENSIVE SEO strategies!
Her business has transformed from a little work at home enterprise to Brisbane's number one graphic design firm.  For Bec, that means she can pick and choose the clients she wants to work with, and still make more money than ever before!
Want to know how we did it?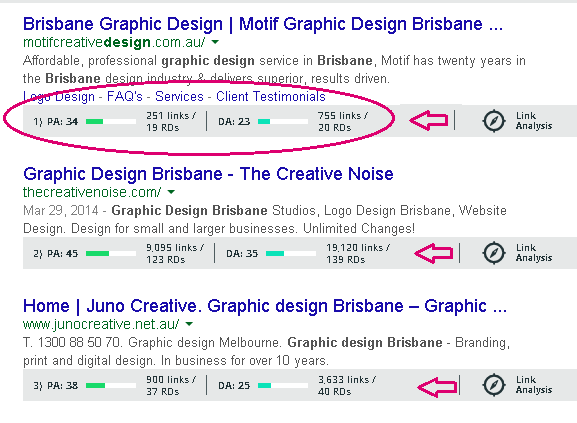 Rebecca's results after three months.

Angela's SEO story sounds a bit like yours!
Angela paid out for SEO services for four years for her local health service.  She could only help local customers but her SEO company was charging her big bikkies to target competitive national keywords…because they could.  We set about making sure she was number one locally and her business took off!  Four years later, with not a scrap of additional SEO work, she's still one of the top ranking naturopaths in her city.
Here's what you get with us
Dana, Miriam and Vanessa. Real humans dedicated to helping you grow your business. We're not SEO company reps. We won't sell you stuff you don't need. There's no jargon or BS. We won't put your business at risk. We'll just help you blossom online.
Actual marketing expertise. Wondering why there's no "set and forget" SEO packages full of mysterious services on our site? We don't do that. We do authentic marketing for your brand. We build you a network. We influence your customers so you get actual results. And that's where your links come from. Not spamming.
Guest blogging and blogger outreach
Cross promotion and referral partner outreach
Brand boosting content driven SEO
Innovative, Google compliant "link hunting"
Content amplification
In-industry link building
Note there's not one mention of spamming!
Small business specialists. A big business SEO strategy won't work for you…or your budget. We focus on winning keywords that are less competitive – so you don't have to take on mega brands to make sales.
You're in control. You'll have 100% control of your data. You'll know EXACTLY what we've done for you and you'll know EXACTLY why we did it. Your SEO strategy will make sense. You'll see the big picture and will track how we power towards it. Imagine it, an SEO company that actually encourages you to keep an eye on your Analytics data. Unheard of!
If one conversation could make you $72,000 and
show you how to take back control of your online marketing,
wouldn't you make that call?
Make that call now. 07 3314 1513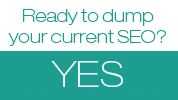 Click yes to get a call back from Dana, Miriam or Vanessa now.