Social that gets your customers talking
(and sharing, and liking, and circling and tweeting and pinning and….BUYING)
Social marketing is all about being in the right place at the right time with the right content, and that takes planning and skill!  Talk About Creative specialises in lead grabbing, attention seeking social media marketing services.
You could go on posting and hoping or you could grab hold of a social media strategy driven towards stellar brand recognition and long term growth.
Sound good?  Let's chat!

Results!  Here's what we did for one IT company!
We worked with this Brisbane based company to grow their brand recognition in the southern states.  Their goals?  To grow awareness of their brand in Sydney and Melbourne while increasing their social media presence in Brisbane.  We reached out to influencers and organised a cross promotional campaign that put their brand in front of their customers.
1710% increase in Australian fans
1247% increase in Brisbane based fans
2467% increase in Sydney based fans
1950% increase in Melbourne based fans
An overall increase in engagement of 1956%
Viral content and huge spikes in social click through rates
The market was ready for our Brisbane IT company, we just helped them get in touch.
And how did it translate to sales?
Our client secured relationships with some of the biggest influencers in their marketplace.  Within months they were the "go-to" company for IT services in Brisbane, Sydney and Melbourne.  You can keep plugging away at posts that get no reach, Tweets that get ignored and empty Google Plus circles, or you can plan for better social media results with Talk About Creative.
Read our social media case studies here.
How can we help you?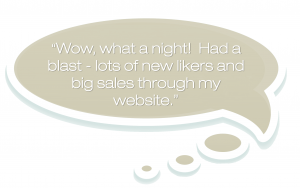 Work with a team of leading social media marketers.  Our passion is creating a superior social experience for your customers – while creating excellent ROI for your brand.  We know that social audiences appreciate creativity above spend, so we specialise in small business creativity.

View our base packages, and then customise for results.
Learn how we use data to deliver REAL results.
We've been talking to your customers for years.
Proof that we do Social Media Marketing Better
You'll love our approach to social media marketing – these Brisbane businesses do!
Meet your team
Talk to our specialist small business social media marketing team about better click through, better engagement and better sales.  We'll put together a crack team for your brand – your own strategist, copywriter and multimedia designers. Our Brisbane based lead generating, sales driven social media marketing will deliver your small business real growth.

Our Social Media Network
In addition to our social media services, Talk About Creative, in partnership with Clearly Social, provides two cutting edge social media services through our other companies

BuzzSocial is the easiest, fastest way to have a social fling.  Your brand and our social media influencers… it's a match made in heaven.  Forget painstaking influencer outreach, BuzzSocial hooks you up in minutes.

Brand Meets Blog is a blogger agency where your brand can form meaningful and long term relationships with bloggers to tap into their audience of engaged and trusting followers.  Unlike other blogging agencies, BMB has no "must use" bloggers on the books.  Instead BMB finds you the RIGHT bloggers for your campaign.