Add your logo, add your mark-up – good to go!
Tailored monthly or one off digital marketing packages that let you drag, drop and get results for your clients.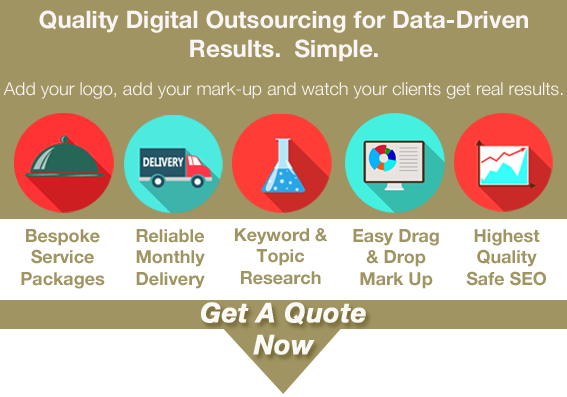 What do you need to outsource?

 Sales Copywriting
One off or ongoing copywriting services.

 Content Writing
High quality content delivered monthly.

Social Media
Lead generating social campaigns.

Digital PR
Connect your clients with authentic influencers.

Local SEO
Build a reputation with the right audience.

Email Marketing
Daily, weekly or monthly email marketing options.
Talk About Creative offers white label content, SEO services, social media management and other marketing activities.  Your clients will never know it wasn't done in-house (unless you choose to tell them!) and we invoice you directly – so you can add your own mark-up and make hassle free profit on every job.
"So many of our clients have commented on how happy they are with the quality of the work.  And we're very happy with the results"  
Alistair, Reseller.
Need it today?  Speak to an account manager about how it all works!

Why you want to work with us!
Discretion.  We never create and tell.  Your brand is on everything.
Reliability.  Our large team of digital pros get your work to you on time.
Trust. We guarantee to never, ever contact your clients.  You have total control.
Quality.  Your work is done by Australian digital professionals ONLY.
Results.  We're terribly white hat.  All work is 100% Google compliant.
Expert.  All work is created to current best practices and checked by a digital strategist.
Value.  Get a large, pro digital team, without hiring a large, pro, digital team.
"They're already on page one for one of their major keywords.  
Love your work."
Kirstan, Reseller
Our resellers
We work with dozens of resllers across several industries.  We create over 100 pieces of content per month for reseller clients and they're delighted with our work.
"It's going nuts. I love you.  Seriously, I love you guys"
Bianca, Reseller
Advertising Agencies, Media Buyers and Marketing Consultants
We work with a broad selection of Australian advertising agencies, media buyers and marketing consultants.  Some of the big ones!  When your Creative Department is just too busy to do the job, or you need digital specialists for a specific project, our white label content services are just the ticket.
Web and Graphic Designers
Create yourself a new income stream!  You want your websites or designs to delight clients, so don't let their copywriting drag your good work down.  Our white label copy, content and SEO is the perfect fit for your design.
"I just looked up some of the keyword phrases for (CLIENT) and the first 3 were all on page 1 woohoo!  You ladies rock!"
Carmen, Reseller
SEO and Inbound Marketing Companies
We work with a selection of SEO companies in Brisbane. Generally our SEO clients are focused on off-page tactics and need social media management or professionally optimised content to drive shares and inbound links.  We'll bring the words, you bring the strategy.
Virtual Assistants
It's a booming industry!  Set yourself apart and always answer "yes" when a potential client asks "Can you….."  We'll work with you to create a strategy for your client and then deliver their work directly to you.  You just add your logo, your mark-up and your assurances that you're the best VA in the trade!
 Got questions? Speak to an Account Manager now. Call
07 33 14 15 13

or

get in touch

.