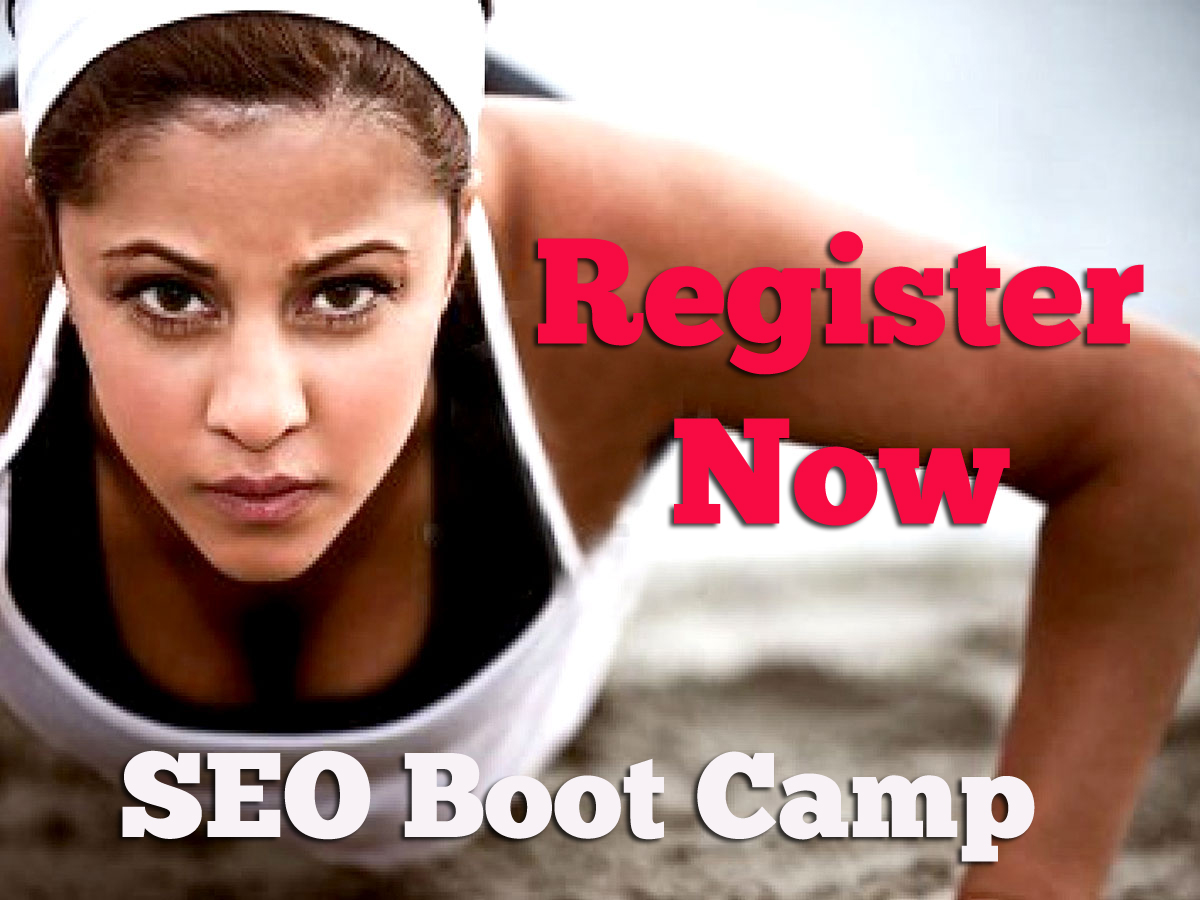 SEO Bootcamp is not a fluffy, woo woo, glowstick social club.  SEO Bootcamp is not a 101 video eCourse – it's live tutoring with a real SEO strategist in a small group. You're accountable to your group.  This is not the course for half arses.  This is committing to six weeks intensive training in SEO. It's committing to becoming a DIY SEO strategist.  It's a commitment to GENUINELY rocking the search results.   You'll learn no half arsed hacks.  You'll fire no magic bullets. This shiz is full on, 100% authentic and Google compliant SEO.  Our six week course is designed for SEO newbies who are passionate about becoming SEO bosses.  The passion is the most important element!
Start with:
"I know my SEO is crap and I have no idea what I'm doing"
and end with:
"I'm ranking for my keywords and I know exactly what to do next."
all in just six intensive weeks
You'll learn the legitimate strategies that we use every day to get SMALL BIZ results like these:
eCommerce (income from product sales):

Content Server (income from advertising placement):

SEO Bootcamp is a 6 week online small group course.  You'll attend weekly online seminars live with Dana, our SEO strategist and then spend the week "learning by doing".  You will SEO up your own website as you go, so you'll already be seeing results by the end of Bootcamp.
SEO Bootcamp Week One – Tech, Tools and Terminology
Learn the ropes, find out what all those techy terms mean and ask all the questions you've been too afraid to ask.  In week one you'll:
Learn how SEO works and what is best practice in 2017
Sign up for all the free techy tools that will help you understand SEO
Get to know your way around Google Analytics and Search Console essentials
Learn to spot "red flags" with your website and have a web developer on hand to ask questions.
Learn to read SEO reports and understand how to achieve your goals
SEO Bootcamp Week Two – Keywords
"OMG, that moment when you're outranking Kmart!"
Toni Nightingale, My Teddy
Understand what makes a good keyword, what makes a good keyword strategy and why just "going after" a keyword group is not enough to make you thrive online.
Learn how to do keyword research like a pro
Get a list of keywords that will make you money
Understand the difference between Adwords keywords and SEO keywords
Plan your keyword strategy, plan your conversion funnels and set your goals for search domination
"I came up on page one for a Google search that wasn't my biz name!  Lol! I know it's not a my BIG keyword but it's still PAGE ONE!!! Yes, I'm excited.  Traffic is up 33.69% since Bootcamp"
Chelsea, TipToe and Co
SEO Bootcamp Week Three – JUST DO IT
Lordy, by the end of week three, you'll start seeing your website "bounce around" in search results.  Hold on, good things start to happen!
Turn your completed plan into reality
Learn how to write content that converts to sales
Learn how to write content that tickles search engines
Learn how to upload content and optimise it for sales and search
Learn how to smart link within your own website
"Talk About Creative's SEO Bootcamp is totally worth the investment.  It makes you realise how many people are full of it and actually have zero idea of what SEO is and especially how to do effective keyword research…. totally recommend. I've built 2 websites using Talk About Creative's approach. Both have been successful in their respective industries and knocked out competition based on good wholesome SEO practice."
  Renee Gusa, Digital Marketing Manager
SEO Bootcamp Week Four – Backlinking
By the end of week four, you'll be the master of outreach!  We'll cover all the key concepts including the nofollow debate, deep linking and link quality!
Understand what makes a good backlink and how to get it
Learn what a citation is and why it's important
Know exactly how to avoid Google Penguin penalties
Get tactics for finding valuable linking opportunities
Put an "outreach plan" in place
"It's awesome!  I went to a "digital conference"… I learned 10% and 90% was fluff.  I don't like fluff.  I like really concrete stuff that I can put into action."
Angela East, School of Mum
SEO Bootcamp Week Five – Amplification & Search Features
Understand the metrics that trigger extra special Google attention.  Learn the relationship between all the different elements of digital marketing and SEO.
Understand Social Media Signals and SEO
Understand user behavior for SEO
Learn to apply "Snippets" to your content
Understand all those search features that pop up in results, and how to get featured
Understand Local SEO 101
SEO Bootcamp Week Six – Measuring and Improving
"Talk About Creative training is the best money I ever spent on my business"
Krystal Warburton, Sweet Elephants
SEO is always changing and as a BOSS webmaster, you'll need to evolve your strategy with it!
Measuring keyword performance
Measuring sales and ROI
Hacks to keep on top of algorithm changes
Tracking your progress so far and planning for the future
*BONUS* Get access to those UBER EXPENSIVE pro SEO tools that turn you into a SUPER SEO SLEUTH.  Learn what your competitors are up to so you can set goals for your own business!
**BONUS** Get lifelong access to our graduates group with over 100 graduates all available to collaborate to grow your SEO
***BONUS*** Pick some serious SEO brains.  Get advice and information specific to your site and industry.  This is NOT a video eCourse, this is LIVE small group online training.  
ALL FOR LESS THAN ONE MONTH OF CHEAP-ASS SEO
Why so cheap??? When our corporate inhouse training starts at $2500 per day?
This training is SPECIFICALLY designed for small business.  It's designed for business owners who frankly, can't afford us.  We were you.  We were a start up a few years ago too.  We used SEO and a bunch of smart online marketing tactics to develop our own brand of digital marketing that's literally nothing like what others are doing.  And it worked. It really worked. It worked like a mofo.  So now, we are working big brand names. We're doing high level strategy.  We're a team of 30 (26 of whom are women) and growing like mad.
But start ups and small businesses are our "tribe"
But that doesn't mean we don't love our start ups.  We love a great business idea with great potential. We love the passion and the kick small biz owners get out of our results. We love how excited small biz owners are by their new page one placements.  We also love supporting other women in business.  90% of bootcamp graduates are women.  We believe that the digital environment is MADE for women to thrive – and we want to make sure that you do.
Our "secret goal" – when someone asks an SEO question, we want to see MORE women, sharing GOOD advice.  Let's own digital, chicks!
OK The Details
Start Date: Tuesday 20 February
Duration:  6 Weeks
Contact Hours:  Weekly Group Training – 7pm – 8.30pm AEST Tuesday's
Expect to invest a minimum of four extra hours per week doing the work
Location:  Online – Facebook Group
Places:  Maximum of 12 students  
Price: $600 + GST 
Note that no additional places will be available.  Email now to learn more or to reserve your place.