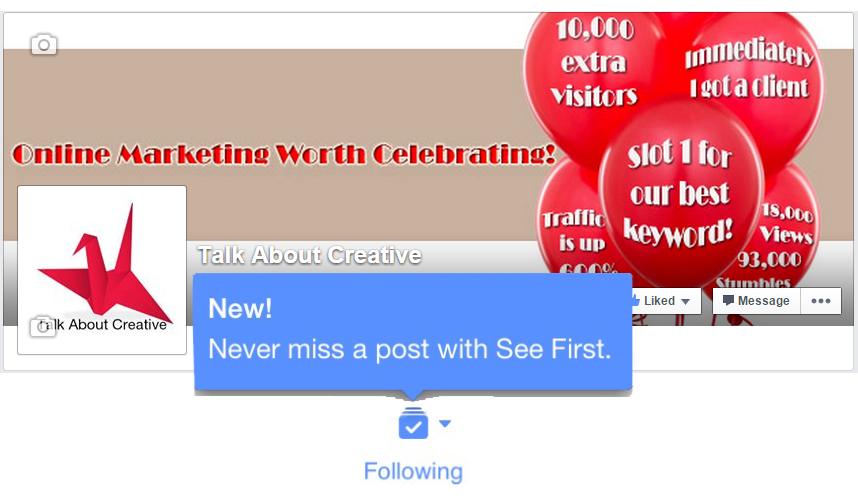 Facebook is rolling out a new feature called "See First".  This will allow fans (and friends) to nominate pages they ALWAYS wish to see displayed first in their timeline.  For Facebook marketers, is this the change we've been waiting for or is it another Follow/Add To List style button that will be ignored by fans?
How is See First different to other Newsfeed editing tools already available?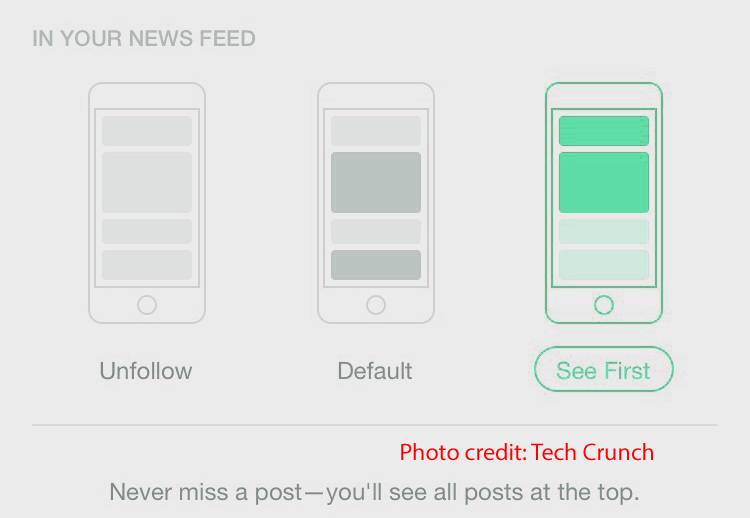 In the past fans have been able to use tools like follow, get updates, add to interest list and opt to "see less" when it comes to managing what happens in a newsfeed.  These all helped to shape a fan's newsfeed but didn't actually dictate what goes where.  Because of this, (and the relative pain of setting up interest lists and then using them) Facebook users have been reluctant to take action when it comes to improving their own experience. This button differs because it allows a direct and defined way to ensure a fan's favourite friends and pages get top priority in their newsfeed – quite literally displaying first.
But will they use it?
Who could forget the million and one pages practically begging for people to follow their posts and comment on their memes.  If those had worked, Facebook communities would be as vibrant and engaged as they once were – but it's obvious that it isn't so.  Educating them to use the new See First button is one thing but, like all those pages of the past, getting them to care enough about your page to click it, is the tricky bit!  Again, it comes down to fabulous content and discussions of interest.
Tactics for getting them to click the See First button
Promises of upcoming content they won't want to miss
Holding wall events similar to Shopper's Spree where they must click it to see fast moving status updates
Post series where the 'next installment" is essential
Time based games such as stop games
Competitions where they must see future statuses to enter
Engage in fan education as a network.  Rather than begging for individuals to get updates from your page, opt for a uniformed call to action educating fans on the See First option.  This will create the idea that the See First button is just part of using Facebook, rather than it being something individual pages beg them to do.
The See First button may be the big change we've all been waiting on, or it may be another option that users simply ignore when enjoying Facebook time.  The See First button is currently being rolled out to selected pages and profiles.  Keep an eye out for it, educate your fans and create a better way to reach the right customers on Facebook.

 Facebook driving you nuts?  Learn more about our Social Media services.

Learn the basics about Facebook so you can start marketing better.

 Talk About Creative participates in social media and SEO experiments.  If you'd like to offer us feedback on the new See First button, please get in touch.