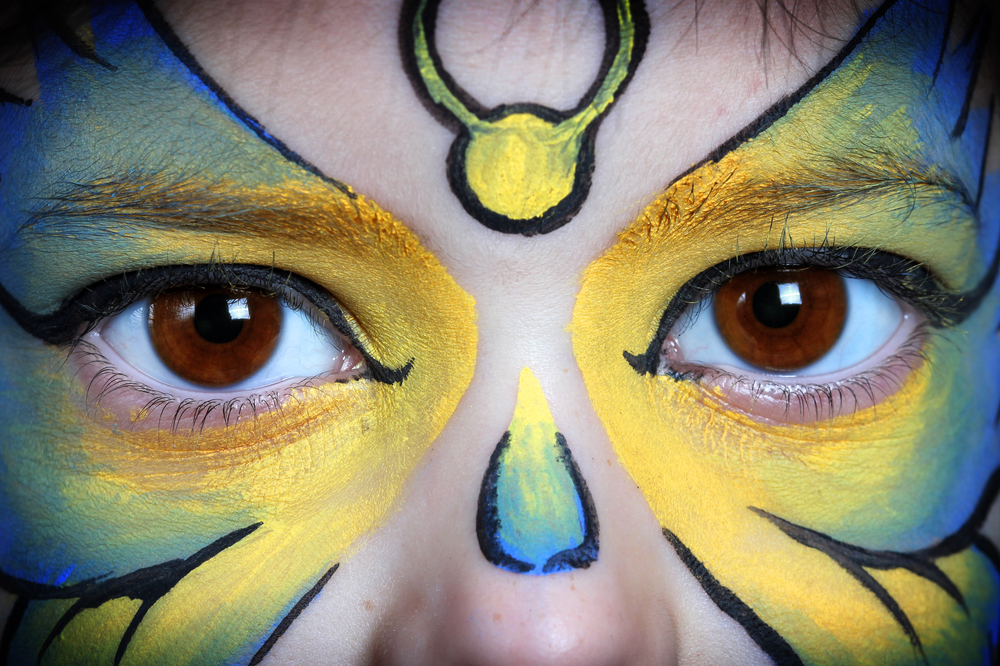 "I suck at SEO and digital marketing in general."  We hear it every single day from  micro-business owners and bloggers. Despite "sucking" their blogs thrive, the customers pour in, they're so busy that they're talking to us about helping with the nuts and bolts of their business.  Meanwhile other business owners are complaining about the money they've sunk into professional digital marketing and the total lack of returns.  The big mistake that a lot of digital marketing companies make is focusing on the stats, not the brand.  I woke this morning to an excellent example and thought I'd share!
A tale of two local party providers
This is the tale of two party providers.  One who NAILS professional digital marketing techniques, one who doesn't.  I am seeking an entertainer for my child's sixth birthday party.  I'm after a kindly local performer with an in-depth understanding of hot topics on the six year old scene – Transformer Decepticons, The Hulk, TMNT and a splash of Frozen. Her understanding of digital marketing techniques isn't on my list!  I searched the most obvious keyword and started down the list.
Two sites, two different approaches
I was in mum mode.  I wasn't thinking about the digital marketing strategies of party entertainers as it didn't seem relevant.  I took a look at the top ranking entertainer. She's slot one for Adwords for big keywords.  She's got oodles of images in image search.  Her site is clean, has plenty of places to sign up to her newsletter, is oozing with appropriate and cheerfully coloured calls to action. Clearly she's investing in professional digital marketing.
A quick analysis of their links confirmed my suspicions!  Compared to the non-pro, she's NAILING online marketing.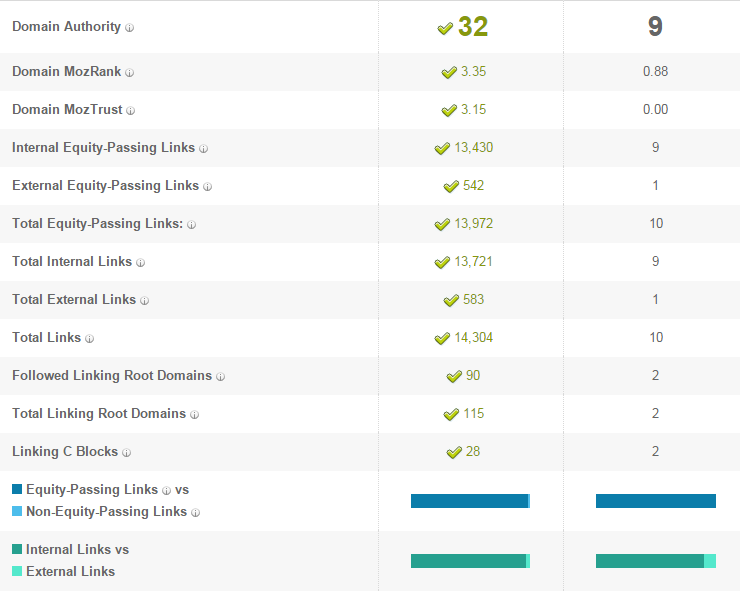 And let me just say, the digital marketing strategy is working.  The "pro" is ranking for 140 more tracked keywords than the "amateur".  Her business is probably growing a lot faster.  She's clearly out to OWN the world of party entertainment in Brisbane.
The usual challenges to small business and how to overcome them
Page one for the main keyword in this industry has the usual challenges for small business. Directories and big parenting blogs have dominated the first few spots.  Fair enough, I even clicked on Gumtree to see what was on offer there.   I found an amazing image that demonstrated the WOW factor of one of the entertainers there – and shot her an email.
I then went back to the search results and scrolled past all other directories. That single WOW image had set the standard I was after.  I had a mission.  Our professional entertainer was all over page one.  In fact, her stats were so very high that she had annihilated ALL competitors. There was no chance of them overtaking her lest she get a Google penalty (some of her links were a bit suss, it's not out of the question).
This is why paying for SEO for micro-business can be a bit of a waste.  If you're a local micro-business servicing a small, defined area, too much overkill stops being helpful and starts just putting you at risk of a penalty.  Big SEO companies may insist that you need to spend a fortune with them… but there's a good chance you don't!
For many of the fellow page one listings, SEO has simply been a case of guest blogging on other party provider's blogs.  It's been formatting their website nice and clearly.  It's been listing in kids and family directories.  Just listing on Gumtree and the local directories and getting Google My Business testimonials… that was more than enough to land themselves a page one ranking.  For niche bloggers, getting in depth and snuggly with your industry can be enough to push you to page one. No paid SEO necessary.
But it's not just about SEO
OK I am going to make a call here.  Autoresponder messages for small personal service businesses… nope.  Our pro has an autoresponder set up – that is excellent in terms of digital marketing strategy – if you are Kmart. It's a thanks for contacting us, with links to other stuff you might like on her site, with slick pictures and calls to action. She promises that one of her sales team will be in touch soon.  The autoresponder also listed a dozen other services that weren't what I was after.  So many links.  So much information.  So much of it clearly out of my price range.  My first impression: this is a big company that offers what I want but at a huge fee.
OK, so she's included a lot of best digital marketing practice … but it's TOTALLY wrong for what I want from her business. I am not after a corporation to come in and entertain my son and his friends – how very "off brand". I'm after a woman to come, set up shop and spend two hours delighting children.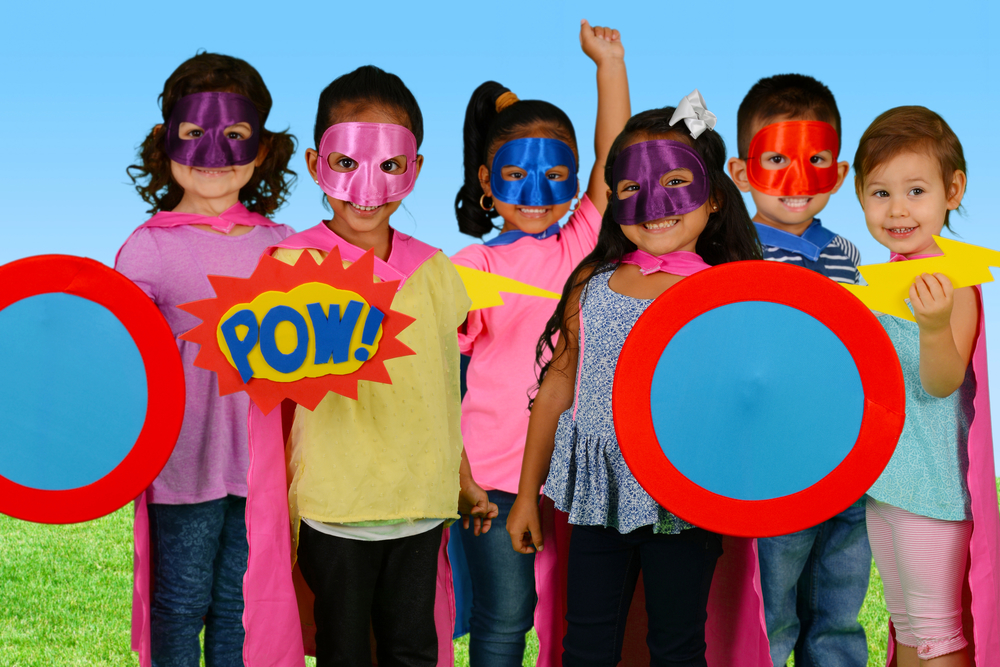 Meanwhile, the unprofessional emailed me back this morning…
Yep, Sunday morning.  Clearly a small biz owner!
The one I am going to hire shot me a very personal, not-corporate-at-all response that said, "Yep I totally know about Transformer Decepticons, and can provide what you asked. These are our rates, this is what you need and this is what I can do.  Also, I have a blue card and public liability insurance.  It was quick, helpful and ticked all my actual standards of professionalism:
Directly answered my questions
Showed me her personality
Answered the questions I hadn't asked yet
Inspired trust
Promptly answered me herself, a human being
Did not try to sell me anything else but actually managed to upsell me to two entertainers just by explaining the challenges of a party with 32 kids, demonstrating that she knows her stuff.
She offered me a token discount if I hired two (I will)
Her images are AMAZING
Two definitions of professionalism…
Our professional example is expanding.  She's offering other services.  Her business plans are likely HUGE.  That's all fine.  There's no problem with that, in fact, the way she's going about it is largely commendable!  But if you're a one woman show trying to bring in some money from parties on weekends, or build up a blog worth reading, you might find that page one is closer than you think.
Don't get me wrong! SEO is worthwhile – especially if you're keen to take over the world – then it's downright essential.  But the bells and whistles, the automated email marketing campaigns, the intensive content strategies, the campaign planning… all the more advanced stuff may actually harm your brand.  If you're a parenting blogger, your brand is all about you – autoresponders about your sales reps are not your friend. Although there's never enough time in the world, a quick hello email to potential advertisers will build your brand up fast – even if it's an assistant sending it.  If you're a personal service like a cleaner, your biggest benefit is that you're the human they talk to – not someone hired via an agency.  Everyone has had an agency cleaner who is unreliable and a bit "half arsed" – for branding purposes, the cleaner who owns the business is by far the best cleaner!
Professional digital marketing runs the risk of taking away the "guts" of your brand. Removing the reasons people love you and want to choose you first.  If you're not here to take over the world, then focus on building up relationships, being human and being amazing at what you do.  Also, take great photos.  That's essential!