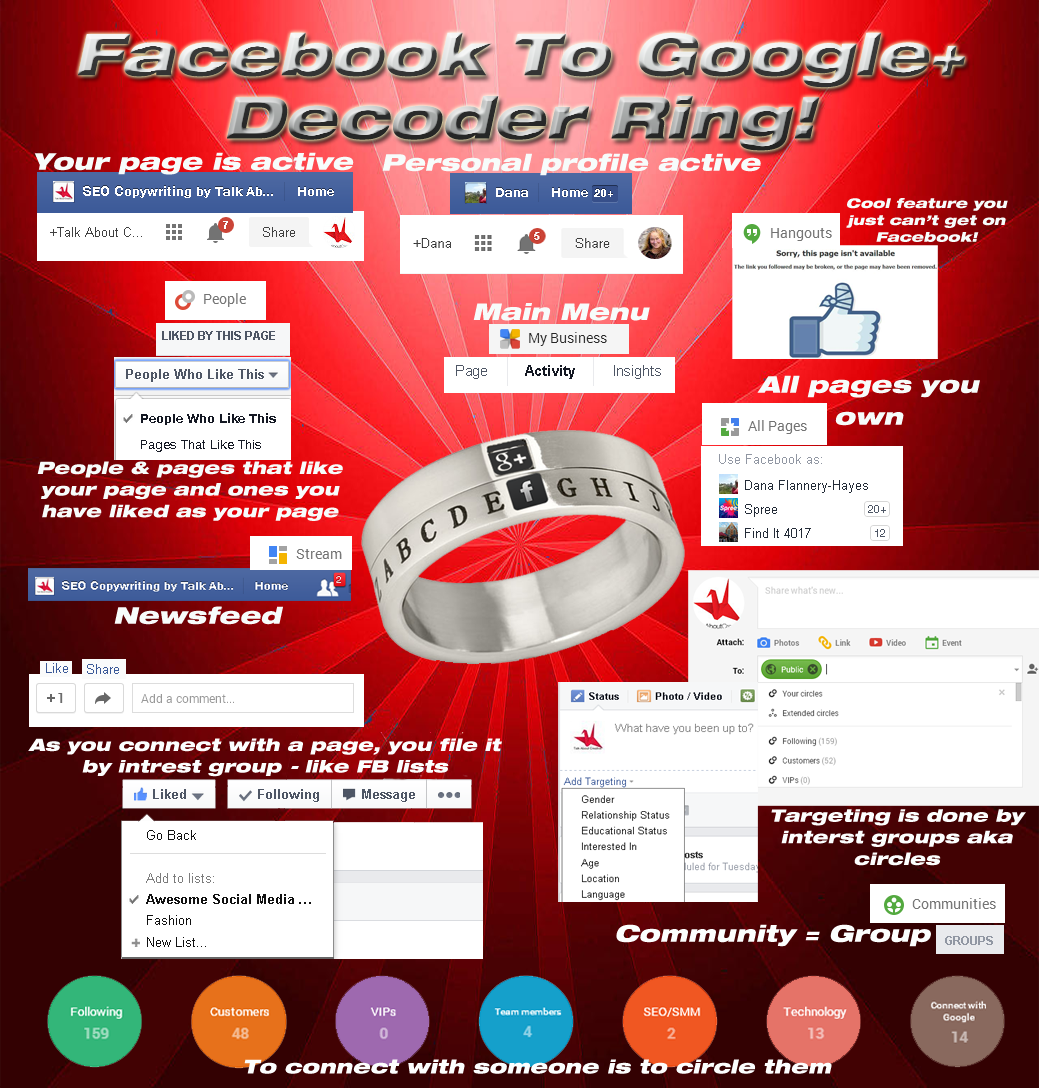 Google Plus For Beginners (just like Facebook only Quiet!)
Google Plus is kind of like Facebook and kind of not.   Setting it up is very similar to Facebook in that you have a personal profile and then you create a business page.  A plus 1 is essentially a like and the little arrow is a share….there are however a few things that make it better than Facebook.  Google Plus for beginners can be very daunting because unlike Facebook there interaction doesn't just flow – you need to work it.  It's worth it because even if you don't get much engagement at the beginning, you'll still get all the other Google Plus goodness!
Take advantage of Google Plus's low uptake NOW
Google Plus has been on the rise for years – it's still not risen to a state where people enjoy using it though 😉   It was a slow start but it's finally gathering a bit of momentum.  Right now is the best time to take advantage of it.   Besides claiming your first choice of username and the usual stuff, you'll find that the Social Media Managers of your favourite brands are crying out for interaction.  One of the leaders in our industry shared a link on Facebook and on Google Plus.  On Facebook it received 1458 likes and 322 shares.  On Google Plus it got 18 likes and 4 shares. These managers are crying out for interaction, so give it to them.  Get your brand on the radar of the biggest and best companies in your industry – but do it now…..
Google Plus for beginners is mostly about figuring out the system itself – so start by following these big brands and watching how they work it!
SEO Goodness
Unlike Facebook, Google Plus allows brands to deep link using anchor text in their page's profile.  Both in the "about box" and in the "contribution" box allow for deep linking but have a no follow attribute.  This technically means no link juice is passed along but in practice, has shown definite benefits.  For juice giving, followed links you need to post links to your content on the wall using the link symbol to add the link.  This becomes a powerful followed link from a high PR Google domain.  It's a good idea to share lots of content from different link sources as just posting your own stuff will look suspicious to Google Plus!
Author Tags
An author tag associates you and your Google profile with stuff you've published around the web.  By creating an author tag and adding links to places you publish content on the web, you are building a Google friendly online reputation for yourself.  Google uses the author tag as a linking indicator and it can help your customers always find your opinion on new articles and on products that you've written about and added.  Note that Google Plus author tags no longer appear in search results – but they're still useful!
Google Plus Local – social and SEO integration
Google Plus Local is a way that Google has integrated Google Places into Google Plus and the results are better placement on Google Maps.  Holymoly that's a lot of Google – I am set to get penalised for keyword stuffing at this rate!
So, once more….
Google + Local – https://plus.google.com/local is a please to review local businesses (aka Google Places) that is integrated into your Google Plus profile.
The number, star rating and quality of these reviews plays a big part in determining how you're ranked in Google maps – that map that comes up in search results.
Talk About Creative offers an optimisation service for Google products or you can read up more here.
Hangouts – exclusive to Google Plus, for now
Hangouts are essentially "online meeting spaces" that are a replacement for the defunct Google Talk.  It's a space for video calls and live chat where you can have group chats – making a terrific space for online seminars and the like.  For good fun, they are peppered with fun little Emojis (like smilies only hundreds of them) and "Easter Egg" (surprise) features.  You can archive conversations for future reference which can make for a great tool for quoting clients.  It still has a few hiccups for mobile users but the most recent updates show promise.
Ripples
Google Plus Ripples are a cool way to see who is publicly sharing content – you can spy on your competitor's shares and then go cosy up to the sharer!  To find them, go to your competitor's page, and find a well shared post – one you might share yourself or something you could do better. Click the drop down button in the right hand corner and select Ripples.  You can then go circle those sharers and then start connecting with them on relevant posts.
Recent cool stuff that's more like Facebook and other social platforms.
The layout recently changed to look more like a newspaper (or like Pinterest) with multiple content columns
Trending hashtags now mean you can click on hashtags to see related content, Twitter, Instagram and Pinterest style.
You now have a much larger storage section where you can keep editing your images and storing them (which is handy because the cover photo display is a pain in the bum)
Google Plus and Facebook aren't that far apart and if you've managed to set up a successful Facebook business, you've got the core skills at least to tackle Google +.  Then, it's just a matter of relearning how social platforms work….again.
 Google Plus for beginners is about getting a handle on the platform, because although it's like Facbeook in a lot of ways, it's got way more potential to grow your business as a whole.  Get stuck in, persist and you'll be a pro in no time.