Lead Generation Case Study – Gateway Therapies
Our Challenge: To connect our client with a very narrow, specific target market.
Abstract
How can we use Social Media to reach highly specific target markets?  In this lead generation case study, we'll outline our approach for targeting niche markets to generate high quality, hot leads.
Introduction
Doctoral candidate and owner of Gateway Therapies, Occupational Therapists in Brisbane, Nicole Grant needed a highly select group of parents to participate in her PhD research program.  She needed to connect with mothers of children under the age of seven who had recently been diagnosed with Autism Spectrum Disorder but had not yet commenced therapy.   This group is especially difficult to reach as diagnosis is made in a doctor's office and all information is confidential.  Nicole's outreach to governing bodies, GPs and other health industry professionals had yielded few good results.  She invested in radio, press and online advertising but still failed to attract enough subjects to complete her doctorate.
Our KPIs included 25 leads and 5 actual sign ups.
Methodology
We treated Nicole's challenge as a "lead generation" issue and set about apply a very specific strategy for reaching the right leads.  Although "sales" was not the overarching goal of this campaign, we built a sales generating strategy into our plan – to ensure the very best value.
We determined what the parents' immediate needs were and then created a valuable, free webinar around it.
We marketed the webinar via Nicole's own channels and through social media advertising
We created a Facebook Group for "Autism Parents' and invited all interested people to join the group – where the webinar would be hosted.
We asked all participants to be involved in the study and provided art and copywriting around "helping"
Nicole prepared a seminar for parents of newly diagnosed young children and allocated time to answer specific questions.
Results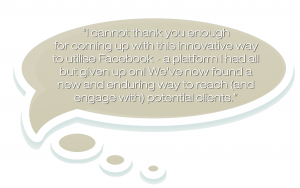 The seminar attracted 89 parents of children recently diagnosed with Autism.  70 of whom agreed to participate in the study.
The webinar delivered more candidates than radio, press and online advertising combined – despite costing a fraction of the price.
The group continues to grow and now delivers qualified leads for courses and activities for parents of children with Autism.  Nicole uses the group as a key part of her ongoing marketing strategy.
Nicole also signed two new clients to her practice after the webinar and continues to receive enquiries from group members.
What better lead generation case study than one that overcomes extremely specific challenges and delivers far beyond the original brief!  We love the Gateway Therapies brand – visit the site now.