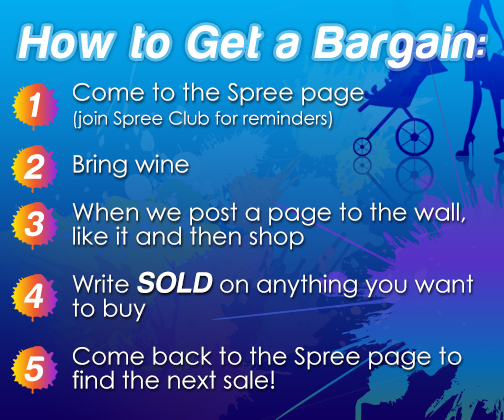 Facebook Marketing Case Study – Shopper's Spree
Our Challenge: Link Facebook Activity to Direct Sales
Abstract:
How can we overcome the challenges of marketing on Facebook when organic reach continues to drop?  How can we deliver a unique product to our clients that actually works?
Introduction:
Facebook is a very very very busy marketplace for retailers. We have a number of small retailers on our books. This Facebook marketing case study focuses on our strategy to overcome these problems:
Produce a mechanism for Talk About Creative to attract qualified retail leads by demonstrating how we solve problems (this was the main goal for us)
Deliver value to customers (both sellers and the end customer) to grow loyalty and buzz via delight.
 Create a way to rapidly grow client email lists and social fans authentically – with only qualified leads.
Demonstrate how to sell directly on Facebook
Showcase the client's "A LIST" products to a large new, targeted audience
 Overcome Facebook's declining organic reach
 Build our FB property organically and cheaply.
Make enough money for it to generate a net profit after paying administrators, advertisers and designers allowing it to be a "stand alone" product.
Methodology:
Using our in depth understanding of Facebook marketing strategies, we created Shopper's Spree, a centralised page where we drive our audience to shop with our clients.
We invite around 15 sellers to pay a small fee to be involved. As part of their involvement, they share the event with their networks and followers (free publicity and organic growth for the page).
Sellers then offer fans some loss leaders (we have been known to crash websites with the sheer volume of buyers fighting for loss leaders) while showcasing their "A LIST" products at R.R.P. or slightly below.
Shoppers need to register for each event via an email capture app and like each page that's selling.  We attract hundreds (sometimes thousands) of shoppers – and sellers can opt in to buy the email list generated too.
We pay for some shout outs on relevant pages and a few cheap and cheerful ad campaigns for each event which brings in "fresh blood" each time to populate our own mailing list (currently at 8000 sign ups).
So in effect we advertise for all 15 pages cheaply and they all advertise for us.   At the end, all sellers are transferred to our "group" where we carry out networking and marketing activities.
The small profit we make month to month (about a grand a month) is nothing compared to the number of sellers that sign up with us for SEO, social and copywriting services.
It's been a highly successful, innovative way to filter new leads to our brand, grow our own mailing list and then benefit our sellers and networking partners.
Results
Shopper's Spree has proven itself the most effective tool in our online marketing toolbox as this Facebook marketing case study demonstrates.  It has generated excellent results for both sellers and Talk About Creative through delivering value and delight at every tier. As a lead generation mechanism, it's outperformed any kind of direct advertising we've trialed.  For Talk About Creative, Shopper's Spree is a profit generating form of advertising.  For clients and sellers, it's a form of Facebook marketing that actually works, actually generates sales and grows their likership with 100% authentic followers. For customers, it's not Facebook marketing at all – it's a wonderful way to spend an evening, with a bottle of wine and some excellent bargain hunting.  Everyone wins at Shopper's Spree.