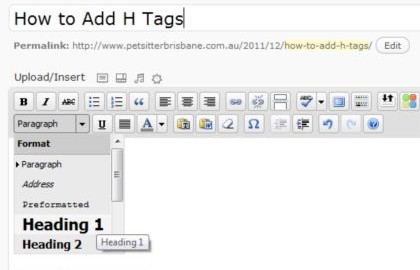 Question: How do I do Content Optimisation?
Answer: Format and Upload Correctly
 If you're uploading your own content, you may be skipping a step or two that could be detrimental to your website's performance.  Content optimisation is about making your content easy for search engines to read and understand. A few basic steps can make a massive difference to how many visitors you get to your site.  Luckily, they're all pretty easy to do – and easy to get into the habit of doing!
Microsoft Word – enemy of the blog entry
It's a good idea to keep a copy of all your content on your computer – that way if your site goes down, you don't have to start from scratch – BUT, Microsoft Word and other word processing programs add a bunch of junk code (such as formatting codes) to your content.  This is like the ice-cream sundae of web content – it looks pretty and makes your content easy to digest but it makes "your back end fat".  To strip away that code, you need to first paste your content into a program like Wordpad or Notepad.  From there, you can copy and paste right into your website.  Some CMS (content management systems – where you upload your website content) will have a pop up window that strips this code for you.
Uploading H tags
Are you guilty of boldness?  Bolding headings on your blog does, well not much.  Google barely acknowledges bold.  It looks for H tags.  H tags make words on your blog appear different.  So, maybe the main heading font looks 2 points bigger and bold.  Sub headings look 1 point bigger and bold and maybe a few dot points just look bold.  To do this, DO NOT CHANGE THE FONT.  Instead, you should add H tags. There are two easy-peasy ways to do this.  In WYSIWYG (where you upload to a page where you can't see any HTML code) you paste in your content, highlight the heading you want to change and then go to the formatting menu. Often, it will look like the font box in Word and will say "paragraph" by default.  Select the heading you wish to display and your CMS will do the work for you.
The other easy way is to add the HTML tags before you even upload and then paste it directly into the HTML view of your CMS.
Once you've written your content, go through and add header tags.  How? It's easy – to open a H1 tag it's  <h1> and to close it it's </h1>.  That's it, just put those at the beginning and end of the main page title and you'll mark it H1 – and Google will know that it's important.  For all sub headings on the page, it's  <h2> and </h2> and for all sub-sub headings it's <h3> and </h3>.  In most CMS you can go all the way down to h6!
To upload, there may be a little button called "kitchen sink" on your CMS (especially if it's WordPress) or you may be able to click the HTML button directly.  That's it, you're done!
Keywords in H tags
H tags alert Google to the wording they contain.  That means that when Google's computers (aka Spiders or Robots) come to your site, they look for the words inside these H tags to know what the site is about.  You should include your keywords, words related to your keywords and synonyms of your keywords naturally in these H tags.  They don't have to be in every one but they should be there somewhere and they should be peppered throughout your writing.
Remember also to upload keyword rich meta titles and descriptions.  Ignore the meta keywords tag, Google does!
Content optimisation with purpose!
Why write a blog?  Why write a new page for your website?  There are dozens of reasons for blogging (see our Blog SEO series for tips) but the overall purpose should be to increase buyers!  For that reason, you should be creating a funnel for your blog readers (or readers of a new page on your site) to reach your money pages – where they can buy, buy, buy and check out.  So, writing a blog for a business page isn't just for fun, it must serve a purpose too.  If you own an online kids boutique and you want to write about your horrendous experience trying to get the kids out the door – you can make it a light and fun read (that keeps your readers interested) but you should also find a way to get them to your money pages.  So, maybe you sell lunch bags or school backpacks?  You can include a mention of them without sounding salesy and divert readers there via link – do it at a time when they're feeling your pain about glad wrap when you're tired or school bags that look cool but are harder to pack than a tent in the wind.  You can add a little ad at the bottom of the article talking about all your time saving products.  You can even just blatantly say – so, I've had a rubbish morning, help cheer me up by having a squiz at my new stock!  It's all about knowing what your readers respond to and getting them to click.
To create the link, simply highlight the keyword (so school backpacks, not click here) and create a link to the school backpacks page.  This helps keep the page ranking in search results, keeps it indexed and passes the SEO power of the blog article along to a money page – it's all good for SEO!
Content optimisation for stickiness
Blog stickiness is the term used to describe how often they come and long people spend on your site.  If you are finding that your bounce rate is high, that you have a low number for "pages per visit" and that you have low "returning visitor" scores, it's all a sign that your site isn't sticky.  To improve stickiness, you should:
Start creating weekly blog series – maybe Wordless Wednesdays or Tips for Tuesday or A Drawing a Day or something that gets your core readers back regularly.

You should also, always promote your blog posts on your social media channels so your tribe are reminded to come back and you should set up an RSS feed for your fans to subscribe to.

At the bottom of each post you write, be sure to add links to topics that would interest the same audience member.  So, if you posted something on saving money, links may be to tips on DIY or making preserves or how to repair clothing…..while the content may be in a different category, it will appeal to the same person.

Create a Chrome App or Firefox App, Apple and Android App that keeps your logo on their browser or screens 24/7 and gives them an easy way to come on back.  Doing this is easier than you might think.

Also, make it easy.  Don't make people like and share you on Facebook just to read your stuff.  Don't make them sign up for junk mail just to make a comment.  Be an easy sanctuary for them to come, read and spend!
 Improving a few little bits and bobs will make a massive difference.  By setting up a content optimisation system for yourself, uploading content can be fast, simple and very, very effective.  Watch our SEO eBooks and Tutorials page for our soon-to-be-launched Blogging Toolkit or get in touch about our business blogging and monthly content marketing services.
Did you find this article helpful?  Click like and share above….pretty please with sugar on top.