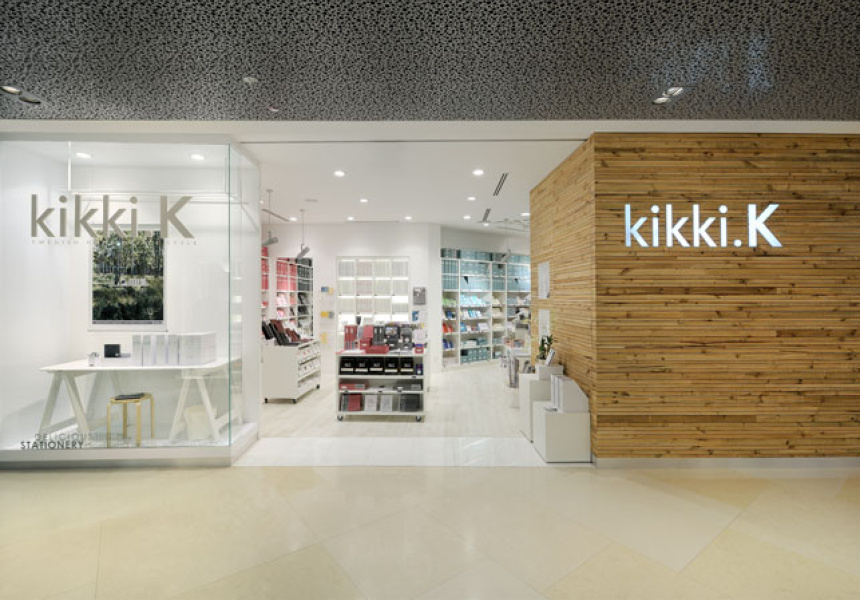 Kikki.K is experiencing a social media disaster today.  The much loved brand has received some terrible press after it was shown that the enterprise agreement signed by staff is tethered to the industry award – meaning staff will lose their penalty rates when new legislation kicks in.  Kikki-K's social media disaster will be compounded by the company's lack of social media policy – in fact, the Swedish super brand seems to have overlooked social media policy altogether.
Why it's a branding disaster
Right now the Kikki.K Facebook page is an exercise in awkward social media management.  The press covered the plight of workers in the last 24 hours but the main page, with over 200,000 followers has not yet taken action to calm the backlash.
The Kikki.K branding has been built around female empowerment and now it looks like their predominantly female staff are to be "financially disempowered."  The vulnerability isn't just a few angry social posts, it's the complete denigration of their branding position.  The brand built on trust and lovely things has shifted to be a brand built on lies and ugly things.
Why it's a social media car crash
Firstly, this brand knew that it was coming.  In the past weeks, brands like Lush have announced that they'll continue to pay penalty rates despite the new legislation.  The result has been positive PR worth millions.  The Lush brand has been praised widely (with millions of video views and tens of thousands of shares) for quickly responding to the changes in legislation and stating that they put their staff's happiness above the extra profit.

So, Kikki.K had fair warning that this social media disaster was coming and yet no steps were taken to avoid the current car crash.  But what's a poor retailer to do?
Kikki.K has only just climbed out of their debt hole.  It's been a long time coming and they've been at battle with Smiggle for some time.  In 2015 Kikki.K overtook Smiggle and posted record sales and finally, a profit.  Saving on staff wages would certainly help this company come into their own…  but the balance must be to ensure that their brand isn't destroyed in the mean time.  Not to mention customer service – with staff on the ground, representing the brand being the ones most affected by the pay reduction.
This isn't a "one news cycle" story.  The news cycle is already a few months in, and the changes rolling out will be big news in the coming months.  This is going to be an ongoing disaster for the Kikki.K brand.  The brand could have seized the opportunity to grab powerful, positive PR by announcing a revision of their workplace agreements to stop them being tethered to the award.  This would buy them time to figure out a fairer approach to wages and avoided this terrible PR car crash.
EDIT:  Four hours after publication of this post, they did EXACTLY this.  See more below.
How poor social media policy is compounding the issue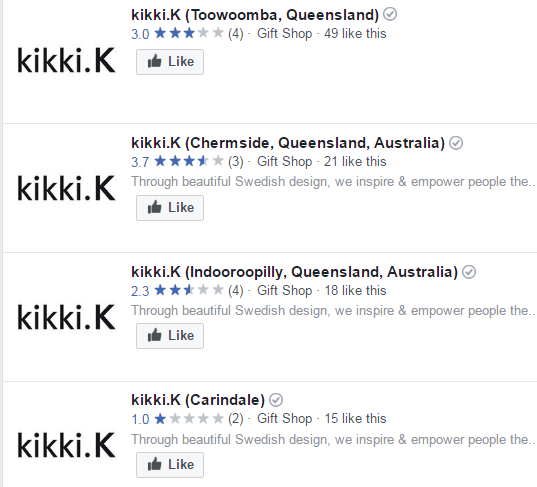 They seemingly have no emergency policy in place
They've allowed stores to set up their own pages
Individual pages means more places for angry customers to post
The pages are likely in the hands of store managers, the first to be hit by the new laws
What business owners can learn from this social media disaster
Have a social media policy in place 
Be ready to turn off features that allow permanent reminders of a single bad event (star ratings can be turned off by removing the physical address of the company)
Where possible avoid turning off commenting altogether – it means angry fans will take the conversation elsewhere – and you'll have zero control
Where possible move the conversation to private message as quickly as possible
Monitor news that may affect your brand
Allow for quick, responsive action (don't put it to the committee)
Do not allow franchises or individual stores to have control of their own pages
Be ready to brief all staff on what they can and cannot say to media or on social
Abide by your brand's core values at all times – even if it costs you some money
Don't just "spin", it will backfire.  Be honest and ethical.
Be ready to move on with positive messages that cannot be turned negative
This too shall pass… but just how much brand damage it leaves in its wake is yet to be determined.  There's still a while before the staff actually lose their wages – it can get much, much worse from here.  It's up to Kikki.K now to fix this social media disaster before it becomes catastrophic!
Update: Since this post went live, Kikki.K has started responding to complainants by telling them that a new EA is on its way.