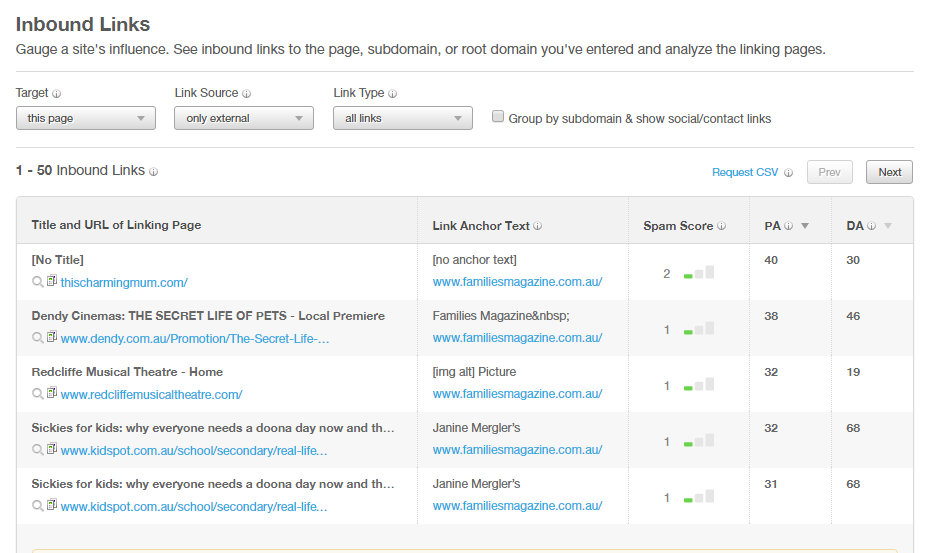 I recently did 600 keyword reports for the Australian women's business network Like Minded Bitches Drinking Wine – aka LMBDW.  LMBDW is a group of female entrepreneurs in both start ups and more established businesses.  Needless to say, 600 reports trigger a lot of questions.  Open Site Explorer came up.
After recommending Mozbar and Open Site Explorer to some of the business women, I was asked about what it all means.  So, here's an addendum to my original blog for LMBDW on how to understand Open Site Explorer.  Note that Open Site Explorer is NOT a Google tool, so while it's a good tool for researching competitors, it's by no means 100% comprehensive and accurate data – Moz however is the most reputable SEO company on earth and is 100% focused on only Google compliant tactics. For newbie SEOs this means that with MOZ you aren't risking penalties when you start DIYing your SEO.
LMBDW Bootcamp
NOTE – Our SEO Bootcamp starts soon.  You'll learn everything you need to know about doing your own SEO.  Each bootcamp session covers a different step in DIY SEO.  You will be performing SEO work ON YOUR OWN WEBSITE as you go.  With specialists and strategists on hand to help you learn the ropes.  SEO is best learned by doing.  Our bootcamp is the only one that takes you from zero to ranking by showing you exactly, step by step what to do!  Register here now as there are only a few places left.
Open Site Explorer Basics
 What does Domain Authority Mean?
Domain Authority is a score that indicates the overall SEO value of your website as a whole.  Developed by Moz.com, it's an "at a glance" summary of all the tracked SEO metrics scored out of 100.
For a relatively young business, like many of the LMBDW businesses, you can set a goal of reaching 40 domain authority.
What does Page Authority Mean?
Page Authority is a score that indicates the SEO value of a single page on your website.  Where domain authority takes an average across your whole site, page authority measures the page specific metrics for the URL you have entered.  A home page is usually much higher than the overall domain as it's where most of your "off page SEO" activity points.  Deep internal pages like product descriptions may have a page authority of zero.
For retailers, improving the authority of pages that make you money should be a high priority.  Build links to these pages from both within your website and from other websites to grow a page's authority.  This is called deep linking and it grows domain authority too!  It also protects you against algorithmic changes.  When you've got a lot high domain authority pages on your site, you are less likely to lose money if one drops in search results.
What does the Root Domains score mean in Open Site Explorer?
The root domain score is the total number of websites linking to this page of your website.
It's the root domain, so all sites that are sub-domains of a bigger site (eg: example.blogspot.com) will be counted as one.
What does the Total Links score mean in OSE?
This is the total number of individual links to your web page from all other websites.    The difference between Root Domains and Total Links is that one counts websites, the other links on those websites.  If you have a Linking Root Domain score of 10 but 100 Total Links, it means you're averaging ten links from each site.  In a perfectly ideal world, these numbers would be as close to 1:1 as possible.  Too many links from too few domains can be an indicator of dodgy linking practices and may leave you open to a Google Penalty.
What is Spam Score in OSE and how is it calculated?
Spam Score assesses your site for 17 different indicators of bad SEO.  These indicators are what Google's algorithm uses to determine if your site should be penalised.  This score is by no means comprehensive and you should still contact your SEO at the first sign of a Google Penalty.
What are Recently Discovered Links in Open Site Explorer?
These are the number of new links discovered by the Open Site Explorer bots when they do their 60 index update.  When the OSE robots go searching and documenting the internet, they will note how many new links exist to your site.  If ALL the links you SEO promised aren't there, don't worry, use your own Search Console data or go manually looking to make sure your company is doing what they're paid for!
Open Site Explorer Inbound Links Box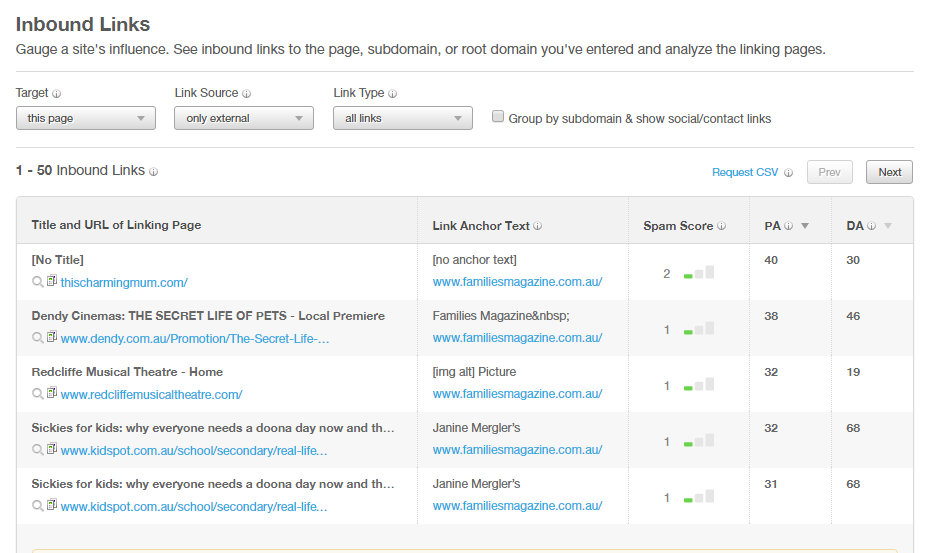 The inbound link profile that shows at the bottom of the "Inbound Links" tab is a summary of all the "found" links pointing to the page you've entered.  While this is great for checking out your most valuable links, it's most often used to spy on competitors – see where their links are coming from so you can get some too!
Adjust the drop down boxes to see links to your site as a whole or to see different kinds of links.  Not all links are created equal – here you can see only nofollowed links (links to your site that don't actually pass you any SEO power) redirects (to make sure your web designer has retained all your SEO power when changing up your website) and other kinds of links.
The Menu Bar
The menu bar in the left column let's you see all sorts of good stuff – some of it free, some of it only on the paid subscription.  For now, stick with free.  You'll need your free trial period on the paid toolbox when you have a better understanding of SEO.  It's worth exploring all the tabs in the bar but the most notable two FREE tabs are Anchor Text and Compare Link Metrics.
Anchor Text Tab – Why Anchor Text is a Tricky Balancing Act for SEO Newbies
Anchor text is when you use HTML code to attach a keyword to a link.  This "text" tells search engines to associate that keyword with page being linked.
So, if I mention your site because I love your fab shoes, I might write the words "I just love these funky shoes" in a blog and then highlight the words and create a link.  That will tell search engines that the page I am linking to is full of funky shoes that I love.  When people like me search for funky shoes, search engines will show that page higher in search results.
The problem with Anchor Text is that it was used by SEO companies to manipulate search results for years.  So now, too much Anchor Text that contains your EXACT keyword will flag the "Penguin Algorithm" and you might find you disappear from search results altogether.  So when you look at this tab, you want to see a nice mix of links that have no anchor text, your brand name, words associated with your products and natural sounding links.  "I just love these funky shoes" is safer than "Buy Funky Shoes Online".   A few keyworded anchors shouldn't be a big deal – but don't go nuts!
What does all the stuff in Compare Link Metrics Mean?
The Compare Link Metrics table is the Open Site Explorer tool where you can compare how your site is doing to your top competitors.  Generally, using it means searching for a keyword you'd like to rank for and then copying and pasting competitors from page one results into the tool.  It will then show you outright, where you need to improve your scores to overtake those competitors.  USEFUL AF.  So here's a breakdown of what you need to know.
Page Specific Metrics Vs Sub Domain and Root Domain Metrics
There are three boxes.  Page Specific Metrics (top) tells you the stats for the ranking pages.  These are the stats you need to exceed for one specific keyword.  This isn't comprehensive because a super powerful website that is ranking for your keyword with a minor internal page (like an article or a product description) will be very hard to beat – even if your content is better.
The Subdomain metrics are about one "sub division" of the website.  This might be the www. in your www.website.com or it could be the "store" in your store.website.com.
The Root Domain section is the most important to keep track of.  Root Domain power is the most important ranking factor for your website overall.  While the top "Page Specific Metrics" box will help you know how to take on a single keyword, the bottom box will help you take on the world!  In the example, it's the root domain screen used.
How to understand the Compare Metrics tab in Open Site Explorer
In this example I searched for "wine".  Because at some point in every bitch's day, there'll be a hunt for wine.  For this example, the site I want to rank is http://www.wine.com.au – I have no idea who owns this site.  I just needed an example 🙂
The top ranking sites competing for the "wine" keyword with wine.com.au in search results are Wine Australia, Wine HQ, The Winery Surry Hills and Dan Murphy's.  So that's what I dropped into the "add link" box.  Note that the page specific metrics tell a very different story to the domain metrics.  Wine Australia (with the 61 score) outranks WineHQ despite Wine HQ's stellar stats.  This could be for any of (literally) 200+ reasons – if you're being 'outranked" for no obvious reason, talk to your SEO company.  We can dig deeper and find out why – that's our job.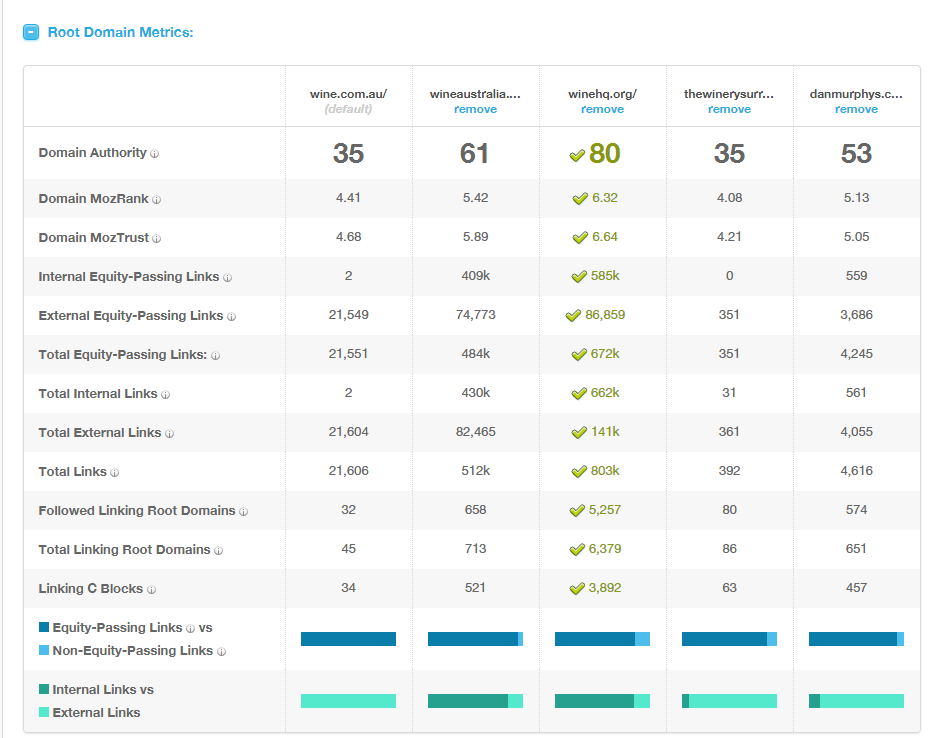 OK, so let's talk about what all these numbers mean!  You know domain authority…. here's the rest.
What is MozRank?
Mozrank is a score out of ten that gives you a rough indication of how the site compares to others.  It is left over from the days when Google Page Rank was the top indicator of a site's SEO credibility.
What is MozTrust?
MozTrust is a score out of ten based on the quality of the inbound links to a website.  A good rule of thumb is to make sure your MozTrust is higher than your MozRank.  Low quality inbound links are the single biggest reason for algorithmic penalties.
What does Internal Equity Passing Links mean?
These are all links on this root domain that pass "SEO power" between pages.  These aren't just straight up followed links, they can mean redirected links, canonical links – any kind of link that exists between pages in your website that channel SEO power around.
You can use different link types to "pool" SEO power to important pages on your website.  You can then use NoFollow links on those page to stop your pooled SEO power from "leaking out".
What does External Equity Passing Links mean?
These are links on other root domains that pass "SEO power" from their website to yours.  The higher quality the other website, the more SEO power it can pass you.  An equity passing link from the BBC for example, will pass you more SEO power than 100 links from crappy directory sites.  Small business should focus on quality over quantity.   The totals are the sums of external and internal links.
What are Followed Linking Root Domains?
These are other websites that are passing your website "SEO power".  NoFollowed links don't pass SEO power but do contribute to your site's trustworthiness.  It's important to have a balance of Followed and NoFollowed links to your website.
What is a Linking C Block?
To computers, your website is actually a number broken into four parts or "blocks" called an IP address.  The third block, the "C Block" refers to your web host.  Essentially other websites on your "C Block" are your digital neighbours.  Too many links from the same "C Block" is an indicator of bad SEO because bad SEO companies set up hundreds of websites that they then "farm" for links for clients.  These are all different domains but often have the same hosting company.  Search Engines (particularly Google) have used low "C Block Diversity" to detect link farms.
Equity Vs Non Equity and Internal Vs External Ratios
The two coloured bars at the bottom of the Open Site Explorer Compare Link Metrics tool show the ratios between key SEO factors.  Like everything in life, balance is vital.  Too many of the "good, powerful ones" will flag your site as a possible black hat (against Google rules) SEO subscriber.  Too few means your site is likely under performing.
What is MozBar and why you need it in your life
So all this seems awfully complicated to the newbie SEO.  Don't worry, there's a quick and easy version.  Mozbar is the the "at a glance" version of Open Site Explorer.  It's a free plug in for Chrome users that can be toggled on and off as you're working on your website.  You simply open Chromestore here and click install.
Next you just Google the keyword you're going for using Chrome.  Once the search result page is up, click the little M in the top right corner until it goes blue.  To get full access, you'll need to sign up for a free Moz Community Account.
Just like Yoast is the quick and easy way to position keywords, MozBar is a perfect for getting started on assessing links.  It's by no means comprehensive but it does give you great, at a glance data if you're new to the whole SEO game.  It's an essential newbie tool, and it's free!
Hope that helps all the LMBDW along their journey to world domination.  If you have any questions please do join our Facebook group!