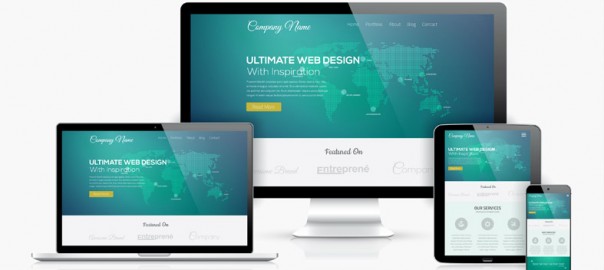 So you do terrific web design. Your websites are beautiful and immersive and exciting – they grab your clients by the eye balls and delight them. But what about Search Engines? Do you suffer from "designer disease"? Web design for on page optimisation is about cleverly and creatively making room for all those on-page SEO elements that bring the visitor in to wow at your design.
Web Design Fail 1 – Images that Kill SEO
There's no denying that most website designs need a big beautiful hero image to capture imagination and keep eyeballs on screen. For content optimisation though, images make it tougher for search engines to crawl and can even get your client's websites branded as spam sites.
Be sure to make room for text in amongst all those images. Yes, even on home pages. At worst, give your copywriter a headline and few lines above the fold and some room to write below.
Web Design Fail 2 – The Mega Header Tags
Font hierarchies are essential for making content clear and easy to digest by readers. However, for SEO copywriters, header tags are some of the most important tools on the page. When you make font hierarchies too dramatic (in size and colour) we struggle to get our job done without messing up your design. Aim for only a point or two in size difference between Header font sizes. Focus on branded colours over sizes for maximum SEO effectiveness.
Web Design Fail 3 – Gaudy Links and On Page Optimisation
When links jump off the page shouting look at me, look at me they may be offering readers a call to action but they may also be distracting readers from the actual content. It's essential to make links visible so that readers follow a conversion path but part of good on page SEO is to link well and often – including anchor text links, white noise links and CTA links. All this can start to look like a big old mess in the middle of the content and can also distract from the hard CTA. Unless link colours are the right balance of visible and subtle, you may be inadvertently harming your client's bottom line.
Web Design Fail 4 – Client Needs and On Page SEO
The client loves your designs and is all on board with everything you've done. The content brief however is anything but brief. If the client has a product that needs in depth explanation, a product that is sold on its data and interpretation, a new product in the market place or simply a whole lot of services in their "one stop shop", you'll need to be flexible with the space allocated to the copywriter. No matter how beautiful the design, the client will not stand for his product not being mentioned right!
Web Design Fail 5 – Too Much Conversion Bling
If your web copywriter doesn't clearly understand what you want the visitor to do next, however will they? Lead captures, soft conversion, pop up help boxes and shadow boxes, all calls to action – they have a place in the prime real estate on the website – but if you've got too many in one place, all offering different benefits, you copywriter and your visitors won't know where to go next.
Working with an SEO copywriter is the right thing to do for your client – but it's not just about briefing and expecting results, it's about considering text as part of the design. It's about sending wireframes as early as you can and helping your copywriter get the most out of that valuable website real estate. Web design for on page optimisation doesn't mean ugly text, it has to mean great results for your clients.
What would you like to do now?

 Content optimisation 101 – everything you wanted to know but were too afraid to ask!

 Content marketing for web designers – be the (wo)man with a plan!

 Download our case study on SEO Copywriting to see how your clients could be getting more clicks!