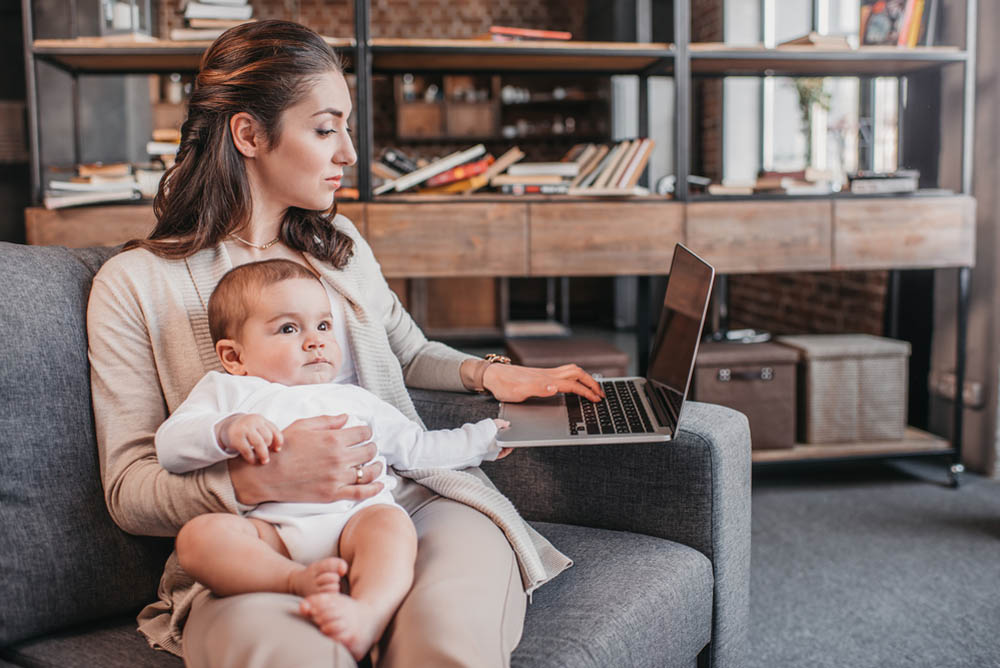 Talk About Creative in partnership with our sister outreach agency Brand Meets Blog conducted a recent study on "mummy blogger outreach" and its impact on search engine results. This is a follow up study to one published in 2014 on the Brand Meets Blog website. The findings are documented below however the brand's name has been omitted.  Thanks to Parenting Blogger Tanya Burgess for access to her data for this case study.
Case Study –  Mummy Blogger Niche
Overview
The blogger was producing a content series in the brand's professional niche.  To add credibility and professional advice to the series, we procured three pieces of content from the brand owner (a medical professional).  The objective of the campaign was to generate high quality, actionable content for the reader, preserving the blogger's reputation as a credible source of information in the parenting niche.
Methodology
For the purpose of this experiment, we used Semrush to track keyword data, Open Site Explorer for "domain authority" information, Google Analytics.  Both the brand and mummy blogger are Australian, so all data is based on Australian search numbers.
Considerations and variables
Authority
The blogger's Domain Authority exceeded the brands significantly however was lower than domain authority of other page one results.
Blogger
DA – 26
PA – new content created – PA 0
Equity passing inbound links – 3250
Brand
DA – 14
PA – 16 (optimised existing content)
Equity passing inbound links – 12
Keyword Variables
While dramatic improvements happened across the whole keyword group, the head keyword "pediatric dentist" is the subject of the case study.  This keyword has a total average monthly search of 1600 searches and has a medium level of SERP competition and a click price of US$4.93
Content
The content generated as part of the campaign was high quality, well researched, well optimised and deep linked to the brand's "children's dentistry" page.  The anchors were a mix of keywords and white noise.  The content also linked out to high authority studies and news items and included actionable information.
SERP
The SERP for this term includes large insurance providers, Wikipedia, an Exact Match Domain and a peak body. There are also two other private dental practices in the results. See image below.  The brand had significantly lower domain authority than 8 out of the 9 page one search results.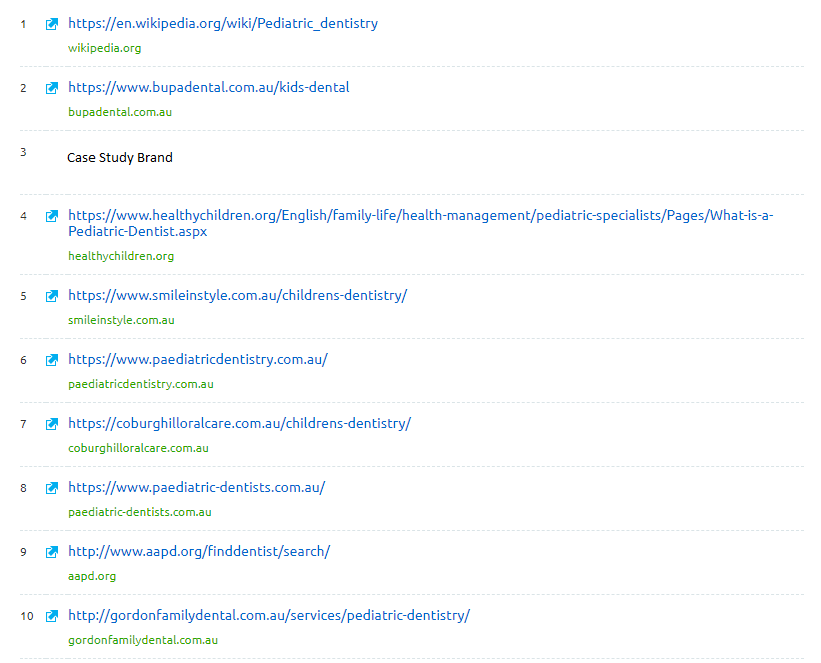 Methodology
Instead of the usual "pay per review" brand of mummy blogger outreach, we focused on generating three high quality, short pieces of written content (each between 400 and 600 words), published by the blogger in quick succession as part of a "special" on pediatric dentistry.  These articles were optimised for long tail keywords in the children's dentistry niche including the target keyword.  There were no internal links added other than those generated by the "you may also like" plug in (one in total), which generates links by blog category.  Two of the articles was shared to the bloggers social properties (approximate audience of 260,000) and generated 290 link clicks.
Results –
10x

Value of Landing Page

How can mummy blogger outreach influence Australian SERPs?  There are too many variables to put a single formula in place (however, as mentioned at the beginning, this is the second study on this topic – the other mummy blogger case study examined the benefits of 6 low DA mummy blog posts in quick succession with social mentions).

The phrase Pedatric Dentist was formerly not targeted by the brand prior to this experiment and we did no other work around the phrase in the weeks/months prior to the experiment.

Brand rank for keyword prior to experiment: Slot 80 in February 2018
Brand rank for keyword after publication: 7
Current brand ranking (18 days post experiment) : 3
SEMRush landing page estimated traffic value prior to experiment: $83
Current SEMRush landing page estimated traffic value: $834*
While this experiment contains a lot of variables and isn't an "instruction list" for getting your brand to the front page for a keyword, it does demonstrate the potential of mummy blogger outreach campaigns.  Their sites are huge, jam packed with quality content and are adored by search engines.  The mummy blogger on this campaign is a qualified pharmacist and writes high authority content about baby and toddler health.  Just what the dentist ordered!
Read more about Australian mummy bloggers here.
(*Based on the dollar value of click prices to achieve the same traffic using AdWords.  These estimations are taken from click prices which is a direct indicator of what brands are willing to pay to have ads displayed on key phrases.  The higher the click price, the greater the estimated ROI on that phrase.)