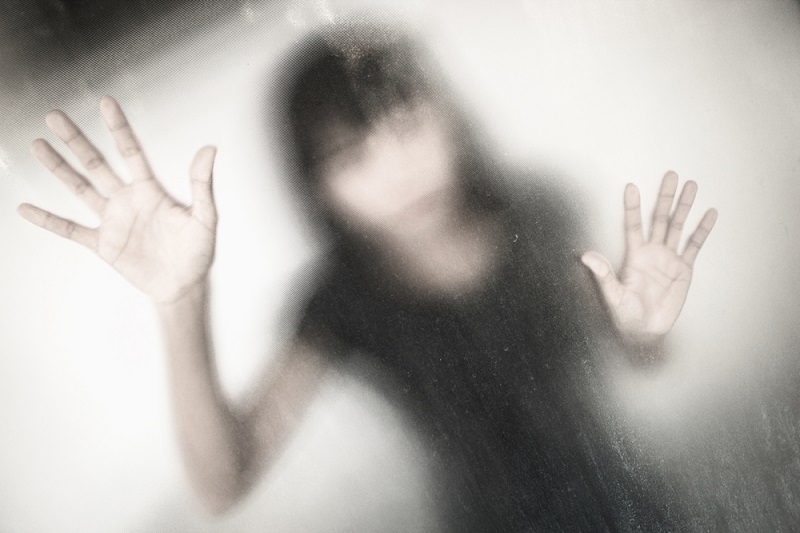 What is an Instagram Shadowban?
Shadow Banning is when an Instagram account experiences greatly reduced reach without the knowledge of the account owner. The account owner finds herself posting content that receives no engagement and has no notion that she has experienced a "shadowban".  Shadowbans aren't exclusive to Instagram, the practice has been in place on Reddit and other social platforms for years.  Instagram users first reported Shadowbans in mid 2016.
How to tell if you've got yourself a Shadowban
There are a number of indications that you are experiencing a Shadowban however there is no definitive way to know for sure as Instagram does not alert you to the ban. You will notice:
1. Sudden drop in likes, comments and engagement as a whole.
2. Being unable to find your content in hashtag feeds. To see this you will need to see from an account that does not follow you, get a friend to unfollow you and check as current followers will continue to see your posts however other Instagram users will not. Get your friend (how does not follow you) to check niche hashtags that you've used. If they can't see your image, you might have yourself a ban.
3. There is an easy way to see if your image has been banned, visit Instagram Shadow Ban Tester and know within seconds if your image is safe from the ban and what hashtags it appears in.
Shadow banning spammer and scammers
The main reason for a limiting algorithm is generally to automatically limit spammers and scammers access to audience. Often a Google algorithm aimed at limiting spams and scams will take down a few (sometimes many) innocent bystanders – causing havoc and creating serious losses for business, unfortunately Instagram is no different.
Good-bye Instagress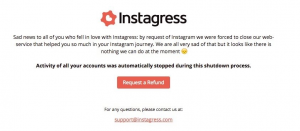 Follow for follow, automated commenting and other "social media tools" are largely believed to be the main cause of shadowbans.  Instagress, one of the best known Insta automated bots, announced it has officially ceased trading on 20 April 2017.  While dozens of similar tools exist, the shut down of Instagress is a bad sign for those using bots to rapidly increase followers.
Facebook's ownership of Instagram
Facebook's relentless pursuit of revenue prompted brands to make the leap to Instagram in pursuit of authentic and unthrottled access to their audience. Since Facebook's acquisition of Instagram, there's been much speculation on how the Facebook "limiting algorithms" will work on Instagram. The restriction of reach to audiences has been particularly evident since the roll out of promoting posts 'to reach a wider audience'.
Reduce your risk of Shadow Banning on Instagram
Instagram has made a statement about "best practices" so the first step is to abide by their recommendations!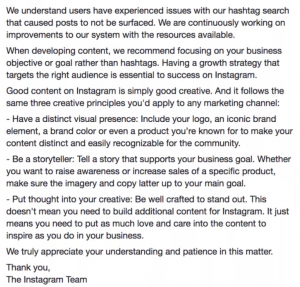 Since the introduction of Shadow banning, users have been reporting familiar actions and general use of Instagram that appear to be targets of the ban.
1. Similar hashtags used every day. Power users tend to use templates that they have researched and have successfully put into action; Instagram algorithms now appear to see this as spammy so change up your tags regularly.
2. Broken hashtags – This is not a new problem however it is now having devastating effects on businesses that use them. What is a broken hashtag? This is when a hashtag becomes compromised by spammers posting inappropriate content. When this happens Instagram stops images using that hashtag from being seen.
3. Instagram automation – It is no secret that Instagram dislikes automated programs for scheduling, likes and follow/unfollow, and they are out in force to put a stop to users them as an easy option for growth.
4. Irregular use – this might be to curb the number of dormant accounts on Instagram.  By leaving your account quiet for long periods and then uploading a burst of images in fast succession, you'll find yourself vulnerable to an Instagram shadowban.
5. Hashtags in comments – Instagram users have been told time and time again that having all their hashtags in the caption appears spammy and that it is best to only include a handful, with the remaining being placed in the comments. It appears this may have changed as users posting this way may be hit with a shadow ban for that individual image.
6.  Using a personal account as a business account.
7. Overusing Instagram – overuse of Instagram is "bot behaviour".  If you're liking and commenting like crazy, you may trip an algorithm designed to detect "automated liking".
8. Annoying other users – if you're constantly getting reported for being a spammer, posting disturbing content, breaking copyright laws or generally annoying people, you may find yourself shadowbanned.
Instagram Shadow Banning ultimately leaves your images invisible for potential new followers, whether you were an innocent bystander or committing one of the Instagram sins. There is still so much to learn about the Shadow Ban, including how long it lasts however you can reduce your chances of being hit by taking precautions.
Have you been hit by Instagram Shadow Banning? Shadow Ban Recovery
Unfortunately, there is no "real time" algorithm reversing Instagram shadowbans.  If you don't feel the shadowban was fair, you can report it as a problem to Insta but don't hold your breath!  At present, Instagram isn't really acknowledging shadowbanning, or at least, not discussing the full extent of the practice – so you may need to prep yourself for a long recovery time.
Remove any automation from your Insta account.  In your profile, go to Authorised Applications and select anything that automates posting, or anything you don't actually remember authorising!  Tap "Revoke Access."
Remove any broken or banned hashtags from your group and systematically delete them from old posts.
Report it as a problem to Instagram
Start with a 72 hour break from Instagram – don't even log in (I can hear you panicking).
Read the Instagram Community Guidelines and rework your marketing plan to fit
Abide by those guidelines and reduce your former activity by 50%, monitoring each post carefully.  Minimise hashtag use and stick to highly relevant, safe hashtags. To see a basic guide to Instagram hashtags CLICK HERE
It's not "humans" deciding if you've been a bad Instagram user, it's "bots".  The question is whether a shadowban is a total blackout of your user name once a problem has been uncovered, or if it the ban changes in the absence of bad posting practices.  If it's the former, you will need to "wait it out" and hope that Instagram is forthcoming with information for users.  If it's the latter, you may choose to remove the "worst offender" posts and wait for another bot crawl.  If you see any improvement in your next posts, you're onto something!  No improvement?
Instagram has suggested that its reach algorithm is influenced by ten (give or take) key factors.  These are very similar to the Facebook algorithm and are largely based around engagement.  As Instagram becomes increasingly similar to Facebook, it's likely that algorithmic sophistication will improve in the coming months.  For authentic Instagram users who've accidentally been "caught up" in a shadowban this should mean recovery.
Unfortunately, most users report no change after attempting to make amends.  It's still early days though, so don't go deleting your account just yet.