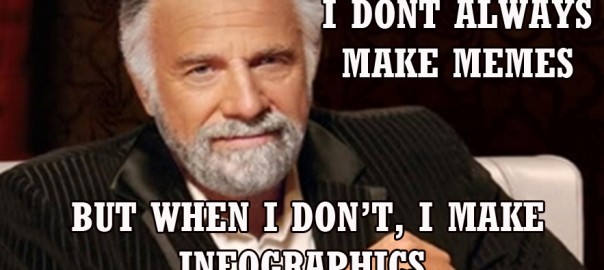 Question:  How do I use Meme and Infographic Design to Market my Business?
Answer: By being relevant
Infographics are a sharable picture that explains a concept visually.  Infographic design has become the bread and butter of the graphic design industry.  Memes are an image designed to "go viral" on social channels or via email. These can be a simple image with a quote that you share on Facebook right up to a complex concept broken down into elements like graphs and illustrations.
How are infographics and memes used in content marketing?
Infographics and memes are two of the most "viral" forms of content marketing. If the topic is interesting and the execution is visually appealing, then an infographic or meme can carry your branding far and wide across social media and also act as link bait on your website.
An amazing infographic design that solves a problem for your industry will attract links from your competitors, industry regulators and customers. Not bad for one piece of content!
Which businesses benefit most from infographic design?
Businesses that have to explain what they do! SEO companies have done very well with infographics because SEO is complex and requires a lot of explanation. If you can take three pages of words and make one simple, clean infographic, you're bound to get shared and linked to, a lot!
They're also great for creative businesses that want to show off their style and flair.
Which businesses benefit most from memes?
All of them! Sharing original content on social platforms is essential. It's a core part of growing your social presence. Original content gets shared, carrying your branding far and wide, and increasing your Facebook reach and engagement.
How much do infographics cost? How about Memes?
Memes generally come in packs as part of your monthly content marketing. They are simple, fun and "disposable" so they're far more affordable than infographics.
Infographic design is more complex, requires a team of designers and concept developers and should be created and then marketed. It's a much bigger job and the potential benefits are much bigger, so the price tag is bigger too. So, how much do infographics cost? It all comes down to the size of the concept, how much of that concept you need developed and how to best market it!  Ask us about designing your concept now.
Did you find this helpful? Click like or share above!