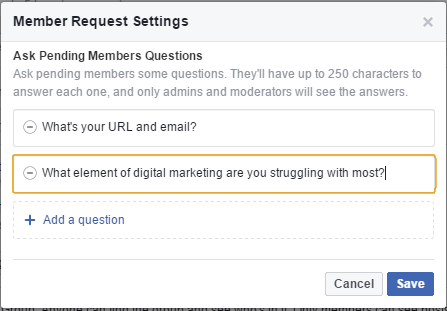 Facebook Group Application Questions – How To Get Real Business Results From your FB Group
Yes, you should be using the Facebook Groups option – if you aren't, here's why Facebook Groups are the bee's knees for small business.  Once you're convinced, it's time to add the free Facebook Group functions to get the very best results from your groups.  The good news is, there are two new ones that ROCK.
Need help? Learn more about our social media agency here.
Facebook Group Application Questions and Connect Group To Page Function
As Facebook prepares to monetise groups, it's giving group owners some incentives to build member numbers.  Not only have they turned "Suggested Group" sidebar ads up to full capacity but Group suggestions are now appearing in newsfeed, in your current groups and below posts from current groups appearing in your newsfeed.  In short, Facebook groups are EVERYWHERE.  Facebook has found a way to make money from the Group function without limiting reach, in fact, it's in their best interest to maximise group reach and engagement.  So, Groups will thrive where pages are struggling.  Part of this roll out is wonderful new candy for group owners.  Two functions in particular are super useful.
Ask new FB Group applicants qualifying questions
The rollout of Facebook group application questions are the talk of Facebook users at the moment, and for good reason! Businesses that use groups to support their Facebook pages now have the ability to really narrow in on their target market. See how you can use this to your advantage.
Ask questions to join a Facebook group – why?
Facebook groups have been around forever but having the option to ask questions to join a Facebook group is only recent. When you finally have the option to add this feature to your groups, you can use it to improve and grow your business. Let's start with why you should utilise the Facebook group application questions feature.
• Reduces SPAM – requiring members to answer questions before approving them, saves you a lot of time checking each individual profile. And only members who truly want to contribute will spend time answering the questions.
• Know your members – Facebook groups can grow very quickly and this often means you don't really get to 'know' your members and their needs very well. These questions allow you to find out crucial information about your potential clients and customers that are relevant to your business. For example – "What element of digital marketing are you struggling with most?" from this we can learn how to best cater to that member.
How to set up Facebook group application questions
Setting up your group questions is incredibly easy. Here is a step-by-step walk through on how to set your FB group questions.
1. Click 'edit group settings' and scroll down until you see 'member requests'. You will see a box that says 'Ask Questions', click it.
2. Add up to three questions that you want your members to answer prior to accepting their request. Only admin and moderators will see these answers.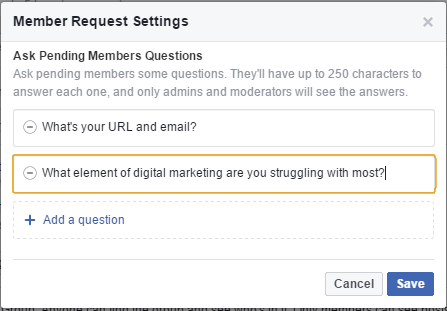 3. A pop up will appear after you save your questions – Member Request Settings. Select your preferred option.
This new feature to ask Facebook group application questions is so easy to setup and has the potential to provide you with powerful information that will get your business real results!
Connect a Facebook Group to your Facebook Page
Sick of waiting for FB to add 'link groups' feature?  This feature allows you to list your closed groups on your main Facebook page.  Let's say you have a page with 10,000 dedicated followers… who never see your stuff because Facebook wants you to pay for reach.  By linking the page to the group, you're able to bring those followers into a more engaged arena where reach is free and engagement more likely.  Running a group is very different to running a page so it allows for a different kind of relationship building.  Get to know your potential customers on a human level.  Offer exclusive products or services without being seen as a "discounter".  Nurture leads into customers with close personal relationship building.  Or, if your brand is right, turn it into a hot sales group, full of hard sell offers.  Like everything on social media, it's all about making the most of your brand.
How to connect a Facebook Group to a Page – don't worry, it's easy!
Thanks to team member Kelly, for digging deep and finding this answer.  Previously, you had to wait for FB to offer up this service but now it's in everyone's page settings!
1. On your page – click settings.
2. On left column – click edit page.
3. Scroll down – click add tab.
4. Add groups tab.
5. Click settings on groups tab.
6. Add your groups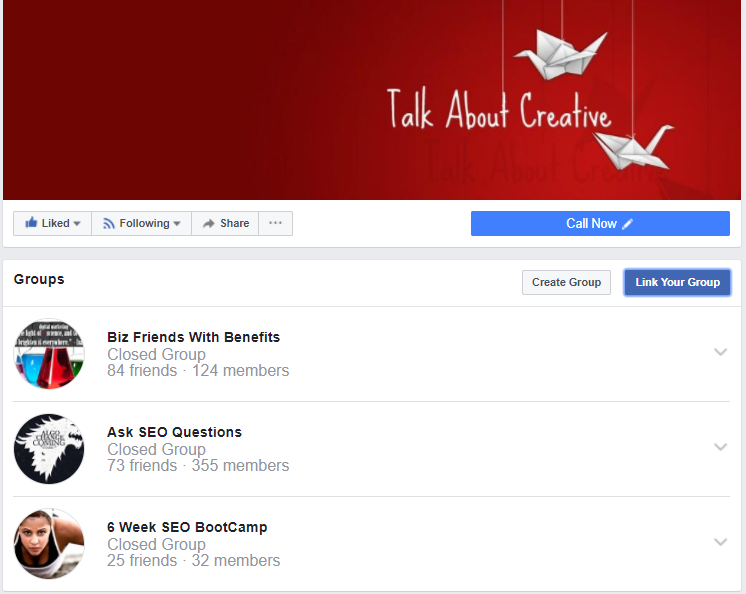 Get the most from your groups and get Facebook humming as a lead generator or sales machine.  Yes it takes time, yes you're stuck with "Digital Share Cropping" but in the digital age, Facebook is a necessary driver into your sales funnel.