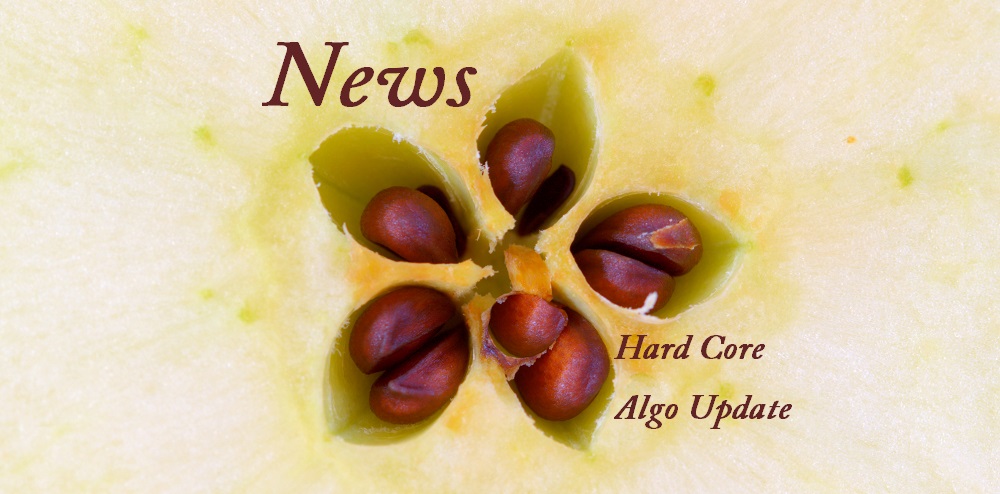 Editor's Notes – Note that these are observations regarding the new Google Core Algorithm Update.  This algorithm is changing now, subscribe to our newsletter to stay on top of future changes.
Updated 9.2.16
The Google Core Algorithm Update has now been in affect for a little while and there's some new insights from various SEO testers:
Content that suffered focused too much on the keyword and not enough on answering the user's enquiry
Pages that answer a specific question and explore all angles of the question have done well
Old content was penalised.  It's time to look at your out of date content and update it or redirect it.
The Google Core algorithm update is rolling out now. Part of it rolled out here but the big one is still coming. Google has released A MAJOR update to its algo. Like an insane one that is wiping out big brands overnight. Grit your teeth. The details are still a bit fuzzy (new algos take ages to analyse) but here's what you need to know:
The Core algorithm update and commercial services wins
It's knocking out universities and government departments from commercial keywords. This is good news for companies that offer a univesity qualified service also offered by the government. This could be a big win for engineering firms, recruiters and even digital marketers (we've already seen a big change in search results based on this)
Hard "core" quality – of course
It rewards quality content (of course) and is possibly an extension of the Phantom Quality Update from last year. Half arsed (aka thin) content will be penalised. It's all about user intent rather than keywords, so make sure your content is well written and gives the exact information a user would need – not just keyword targeting.
Now targeting "how to do something"
It looks like this update is targeting longer enquiries and questions. So when people use the "OK Google/Suri" function the questions they're asking are becoming "keywords" – so it will be beneficial to answer longer questions directly. To find a list of these go to answerthepublic.com – it lists questions related to keywords.
Length of content isn't THAT important, it's how well it answers the question. So find questions your users may ask and answer with "the short answer" and then give information around all aspects of the question.
Oh no, the D word – de-indexing
Low quality sub-pages are being de-indexed. This means that your home page and good quality content may remain in search results but "thin" content deeper down may be wiped out of the index completely. This is worrisome for eCommerce sites where product descriptions may be considered "thin" and for large directories where events calendars or directory listings may be affected.
The big one. Big sites will fall!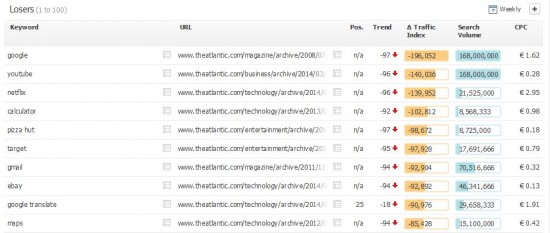 Photo credit: http://blog.searchmetrics.com/
Sites that target other people's brand names are likely heading for dark times. Targeting other brand names has long been an "easy win" for large sites (Babyology might be struggling soon for example) as brand names tend to be low competiton with high search numbers. Print publishers already suffering under this algorithm include global brands like The New Yorker, Vanity Fair and Fast Company.
What does this mean for small business SEO?
At present the sites most affected tend to be "whales" – large site with hundreds of thousands of monthly hits. The jury is still out for small businesses. However, the sites most likely to be affected are:
Content serving communities
News servers and celebrity gossip sites
Wholesaling agencies
Review sites
Tourism review sites
Retailers that market based on brands they sell
How to protect your Small Business SEO
Check out our options for small business and talk to us about SEO training and content writing services. We can help audit your existing rankings strategy and then discuss options for suring up your brand before the algorithm is rolled out on .au sites. We can also help you with recovery from algorithm updates. Preparing your site means writing better product descriptions and making sure that you have a deep linking strategy in place. There could be troubled times ahead with the Google Core Algorithm update, we'll help you through it!