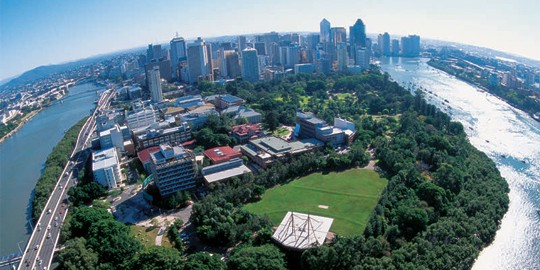 Looking for a copywriter in Brisbane?  Click here.
Looking for in-house training in Brisbane or South East Queensland?  Click here.
Copywriting Training Options
A copywriter is a person who writes for commercial purposes. Copywriters write advertisements, website text, sales brochures, email marketing and the like.  Traditionally copywriters were "Ad Men" but these days there are limitless opportunities in digital marketing – so the industry has expanded rapidly.  Copywriter training in Brisbane universities has changed from a straight advertising degree to something more comprehensive and diverse, so it's worth getting all the info before choosing a course.
What skills does a copywriter need?
A good copywriter will have a solid understanding of the concepts of marketing and advertising in addition to being a natural wordsmith. In addition to copywriting skills, they should have a good understanding of the medium they're writing for. For example a press copywriter needs to come up with GREAT headlines. A radio copywriter needs to write concisely and an web copywriter needs to understand the principles of content optimisation.
What qualifications should a copywriter have?
This is a tricky one! Most commonly, a copywriter will hold a bachelor degree in either writing (with an emphasis on commercial writing) or advertising (with an emphasis on writing), Communications or Marketing. There are also short courses available from Ad Schools, SEO schools and private media colleges. If you are using a copywriter with less than a bachelor degree, check out their work and their sphere of knowledge. An SEO school will teach you how to optimise but not how to write for humans….
How do I become a copywriter in Brisbane?
Copywriting has a huge potential for growth. Back in the day, copywriters had slim to no chance of finding work in Brisbane (most migrated to Sydney or Melbourne) but nowadays, thanks to the huge need for web copywriting, a good freelance copywriter in Brisbane can make a great living!
Brisbane has a number of universities and private colleges offering copywriting qualifications:
Reputable Brisbane copywriting courses:
Talk About Creative Training
We offer a selection of courses for graduates and small business owners. These include in-house training in Brisbane, Redliffe, Caboolture, Logan, Gold Coast, Ipswich and on The Sunshine Coast.  We also offer an 8 week intensive bootcamp training in all aspects of digital marketing, with a focus on SEO.  We also run an online " Copywriting 101″ intensive two hour online copywriter training course periodically, click here to register your interest.
Adschool (short courses and seminars)
Hanns Bergs
adschoolqld@adschool.org.au
Mob: 0438 806 195
Various Locations in Brisbane and Sunshine Coast
ADMA – Australian Digital Marketing Association
Various Locations in Brisbane
Queensland University of Technology
Bachelor of Business Advertising, Gardens Point Campus, Brisbane
Master of Advertising (Creative Advertising), Gardens Point and Kelvin Grove Campus, Brisbane
Graduate Certificate in Advertising, Gardens Point and Kelvin Grove Campus, Brisbane
University of Queensland
Bachelor of Business Management/Information Technology – Advertising Major
St Lucia Campus, Brisbane
Griffith University
Bachelor of Digital Media, Gold Coast Campus, Queensland
Once you've finished your copywriter training, be sure to like us on Facebook and check out our Careers Page to see any roles we're advertising.