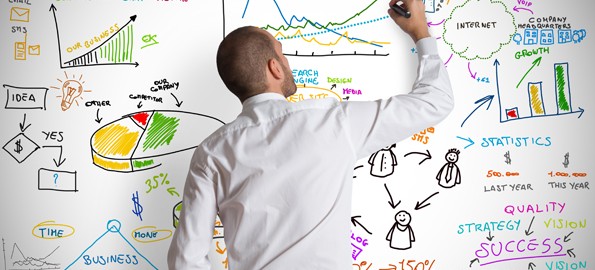 Stuck for blog content? Is your Facebook content all too ho-hum? Here's some tips for strategic content creation – even when your inspiration is low!
First, What You Need to know about Content Creation
One of the biggest complaints I hear from clients (and one of the big reasons we sell so many blog entries and Facebook content packs) is that it's hard to keep coming up with fresh stuff to post.
The problem is actually twofold:
I need ideas for content
I need my content to illicit a response
The two are actually two different entities all together and at the same time exactly the same. Content creation serves a lot of different purposes and you need a plan to get the most out of it.
First, Know Thy Reader and Liker
It's vital to check your stats on Facebook and your website to see when people are online and what they like to read. Really get to know and understand your readers and likers or you'll NEVER create engaging content, ever.
Second, Know Thy Self!
What are your madddddd skills? Are you a great writer? Got a good eye for art? Have some Photoshop skills? Photography skills? Artistically gifted? Good with computers? Got a super-duper analytical maths brain?
Making great content is about using your existing skills and talents to create something unique and wonderful. If you hand make something, why not do a photo or video blog about how to do some element of your craft – a tricky stitch or cooking secret. If you are great at maths, why not do a white paper analysing some highly relevant industry data. Remember there are plenty of people out there that can help with skills you don't have – be it friend or pro. We know, we write weekly blogs for dozens of clients and use graphic designers to overcome our visual failings!
Third, Know Thy Content Uploading Practices
Maybe this one has your stomach turning with anxiety. The good news is that our Business Help Blog and our Marketing Help section has all the info you need to do this.
By now we've covered blog and Facebook content creation methods and the functions of various kinds of content. Now we need to come up with a plan Stan. This time, it's all about blog content because your blog is your anchor to the whole world wide web, including Facebook. So, let's look at what you need to get organised, how to plan it and how to manage it without spending your whole life blogging!
Content Types to Consider
Everything you post to your blog should do all of the below, but sometimes you want to go harder on one aspect than others.
Content for branding's sake
Content to target keywords
Content to create interaction
Content for link and bookmark attraction
Content to create blog stickiness
Content to raise your domain authority
Content to create sales
Keep every one of these things in mind as you write/photgraph/photoshop/video or create! Remember, where your talents lie is where most of your content will come from. If you love sewing, and you're OK at both photography and writing, then you can blog about how to sew. BUT if your talents don't include photography or writing, it may pay to commission the odd photo session and ghostwriter. You can also call for guest bloggers to write for you in exchange for links.
Content for Branding's Sake
Think long and hard about your brand, it is smart, funny, adorable, trusted, interesting, cool, first…. Re-enforcing your branding message on your blog gives you a chance to step outside the usual content ideas. If you're all about adorable baby clothes, you can also be about adorable…cats, dogs, kids, places, art, celebs, design, furniture, décor, ideas, pages, shops, fashion….. you've got a thousand and one places to go that aren't just about your products but about how your brand fits into the mind spaces of your buyers. These are the fun ones! Posting stuff that you love will show your readers a window into your personality that they can identify with.
Content to target keywords
This is the bread and butter of blogging. Knowing that someone who is pregnant is likely to be shopping but not know about sizing yet, means writing a blog about "newborn baby size" or "how many 0000 sized clothes will I need" or "should I buy 00000 just in case" – whatever the keyword or phrase you know they're searching, you should target. It's about attracting different demographics with different problems, explaining the answer to their problems and then giving them a path to a product that will help them. If you can go one step further and do a little keyword research for yourself, your strategy gets all the more cemented and will produce even more traffic.
Content to create interaction
This is the best kind of content to pair with social media platforms. This is where your most engaged readers make conversation on your blog and the best way to do that is to ask them to. Ask for opinions, help, recommendations, even quizzie answers. The amount of interaction you get is likely to have a bigger impact on your SEO than ever with upcoming changes to the algorithm, get 'em talking!
Controversial content is a great way to get interaction happening in the form of debate. Be careful though, you don't want to annoy people too much!
Content for link and bookmark attraction
Matt Cutts has talked a lot about this and it's the way to go if you want extraordinary web results. Create extraordinary web content! Whether it's a nifty photo blog on how to do something amazing, an amazing infographic explaining an industry issue, a personal story of struggle or success, amazing images from amazing places, a totally hilarious video….dig deep down into your creative self (remember you're always funnier and more insightful when you're just a little bit wasted) and find something you want to say. The more honest and unique the more likely you'll get the links and bookmarks you desire.
Sticky Content
Stickiness is how often people come back to your blog. Social media is the best way to increase stickiness but you can calso run blog series on how to do something (like this is!) or publish a journal about a particular event (pregnancy, news item, struggle) that interests your audience. If you are participating in Facebook promotions, you could journal which works best for your biz, or if you're attempting to get your stock into shops you can document the trials and successes. Hate a judge but love a contestant on your favourite show? Can you give a witty and scathing report on it weekly? Do it! For hand made products, getting everyone on board for a sewing project is a great way to do it. I've even run a cross platform weight loss promotion that had people logging in weekly to register weights and daily to talk about where they did well and badly. It's all about identifying what holds your reader's attention and covering it.
Content to raise domain authority
This is a bit different because every time you post to your blog, it grows your site and that's good for your domain authority. Creating content rich in relevant keywords also increases your site wide keyword relevance and shows search engines that you provide content with breadth and depth. Getting good quality links is great for domain authority so you want some of those.
There are tons of ways to do this, (and you can check out our ebook on it here) but as far as your blog goes, there's one neat trick to this. It's called finding broken links and it takes time and commitment but it pays off better than any other method of link hunting. Visit our blog next week for more information on finding broken links!
You can also try guest blogging as a way to gain great links. Leverage the quality of your blog to demonstrate to other bloggers that you are both qualified and desirable to write content for their blog. Your blog will be your showcase!
Offer to host a competition or online promotion (such as a Rafflecopter promotion) for a local community group or school (or any other high power .gov, .edu or .org). You do the technical set up and run it from your blog – offer to do it free (it costs very little) if they're all willing to link to, and direct customers to, your blog.
Blog about a big issue and then tweet it using the hash tags that the interest groups follow.
Create a beautiful image or video about a particular organisation or group and host it on your blog and then allow them to share from there.
Give news style coverage to feel good events at the local university, hospital, nursing home or other community organisation and then ask them to link to it. Just be sure to get clearance forms signed.
The many roles of great (and average) content
Content On Facebook:
Creates "Edge" – shares, likes, comments, answers etc that influence the Edgerank algorithm which dictates how many people see your posts.
Creates Loyalty – entertain, inform and engage them and they will stick around.
Creates Branding –  You can find funny memes, inspirational quotes and all the other stock standard Facebook content anywhere, it's what you post in between that matters most.  Remember that too much "noise" will give your page an overall spammy feel – so keep strategy top of mind.
Creates Buzz – having plenty of activity on your page makes people ACTUALLY want to like you. Nothing so off putting as a dead page!
Content On Your Blog:
Website/Web Interface – Your blog is the best anchor for your website on the internet. That is, it's the place where your website can draw in the most diverse, social and interested crowd. It's the stepping stone between Liker and Buyer.
Traffic Builder – Targeting low level specific keywords keeps a steady stream of traffic to your website. It also builds the sitewide relevance of your main keywords, as long as you're always posting on topic.
Domain Authority Builder – Regularly updating with high quality content is THE way to build domain authority without depending on high risk backlinks as your soul source of power. The more you update, the more Google comes back to visit, the more credible your site, the higher your domain authority, the better you rank in search results overall….simple domino effect!
Stickiness Builder – Stickiness is the term for how often people come back and visit your site. Stickiness is about getting a higher "return visitor" score in Analytics and increasing their activity while there. Return visitors are more likely to become customers and returning customers. Creating blog series and weekly themed updates will help make your blog sticky.
Link Bait – Creating really high quality, unique content is the best way to get organic links to your site without even trying. At the moment, pretty infographics are the most popular link bait around but a quirky, informative, funny, insightful, industry leading, newsworthy or topical article can do it too.
And the most important reason for creating great content?
Make Sales – Making sales should ALWAYS be at the core of your content plan. Whether it's selling advertising on your blog or selling a product from your site, sales is the overall goal. Keeping this in mind, creating content that will first, prove you're awesome, trustworthy and have something to offer, and second, not give enough away that you don't make any sales (this is the Talk About Creative problem – finding that balance). Making sales through Facebook or blog content isn't as easy as you'd think, the moment the reader sniffs an ad disguised as content, you've lost them.
You either need to be upfront about the content being a direct ad or make it valuable for them first, and commercial second. If you choose to be upfront, don't do it too often. Facebook fans HATE constant ads (would you sign up for an ad stream?) and blog readers aren't going to come back to read your product advertisements time and time again.
Content To Boost Sales
Firstly, all content should boost sales, it's the overall goal. It should boost traffic to pages where you charge advertising fees or pages where you get your best offers of paid work. Whatever you do with your business, if your goal isn't to make money, it's not a business, it's a hobby. Content that can boost sales directly includes images of your products in context, blogs offering special offers or discounts, blogs that attract people ready to buy and blogs that directly demonstrate why a product should be bought. This isn't all of them, every business must find their buyer's hot spots….. Pinterest, Instagram and Facebook can all help promote these blogs well as they support images really beautifully; Pinterest especially works well for online stores.
Targeting keywords like 'buy dog liver treats online" is called "conversion keywording' and it's how you attract people to your blog who are ready to buy right now. Blogging can help you to target small, high conversion keywords while your "money pages" target for higher traffic numbers. It's vital to imagine what goes through the mind of people on their journey to buying. At first they might Google "best dog treats for Labradors" and then read up all the different options. From there they might google "liver treats fat content" and find that liver treats are indeed the go. Next they'll google "buy dog liver treats online" because they're ready to spend. This is the best way to use your blog to sell specific products. From the outset make it obvious where they need to click through to the product/s. This will improve ranking for your liver treat products too!
Blog content doesn't have to always be serious and vital information! It's about creating a story for your brand that is highly relevant and interesting to your audience.   When you're stuck for content creation ideas, look at what is lacking on your blog and Facebook page, there's always room for more strategy!