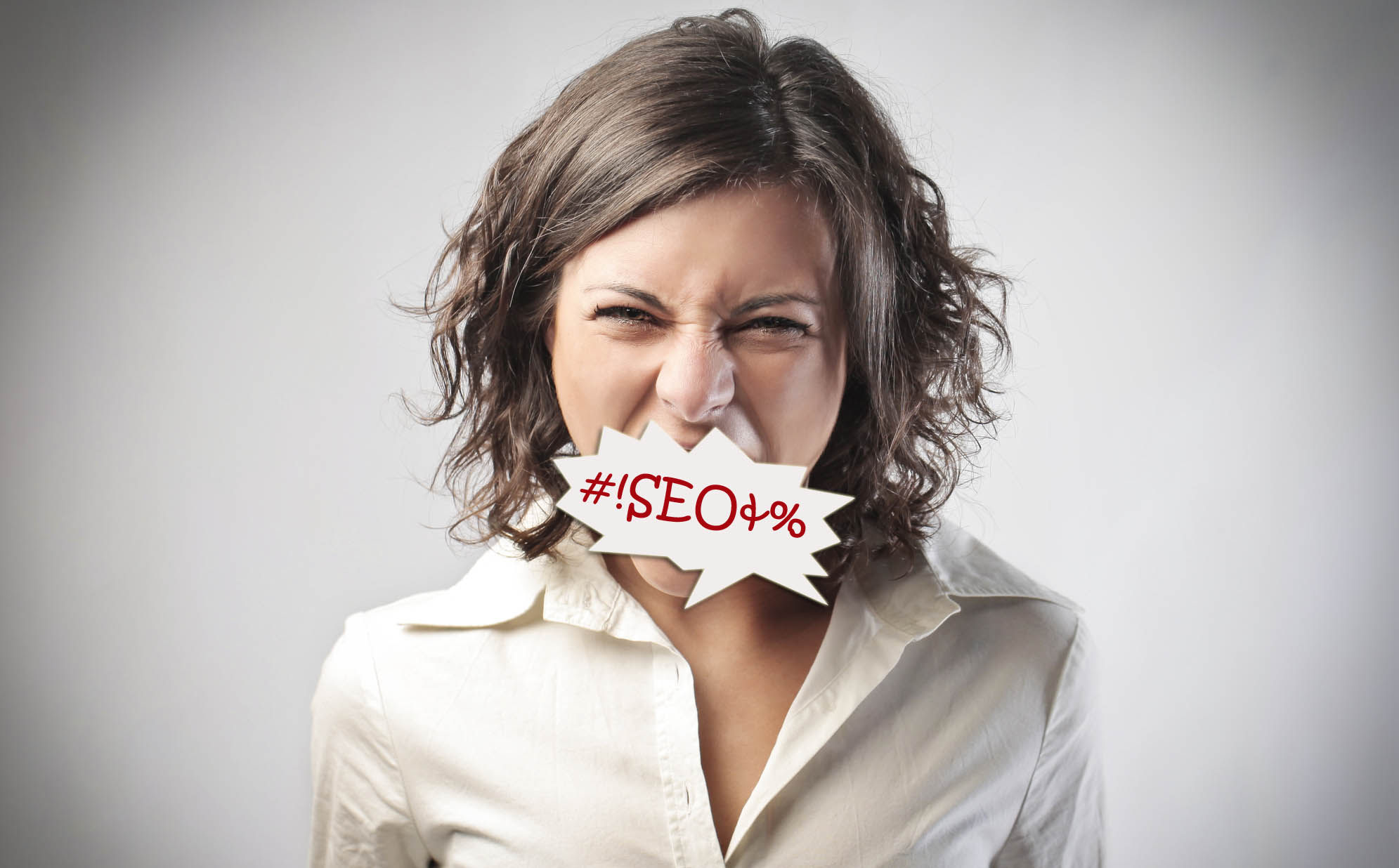 Bloggers: SEO is Not a Four Letter Word
There's nothing like a copious amounts of well written and interesting content to attract a search engine and yet, bloggers turn their backs on SEO? For some bloggers, SEO is a four letter word, a dirty, low down trick that denigrates the credibility, heart and soul of their blog. Sure, SEO companies spamming comments with dirty SEO tactics is enough to make anyone hate the industry, but blogger SEO doesn't have to be about bad quality – in fact, the very best search engine optimisation tactic is to produce excellent content. I'm here to dispel the myths about the beautiful relationship that can blossom when bloggers snuggle up to search engines!
SEO is just spam, my blog is not spammy
Yes, SEO companies are responsible for the ridiculous gibberish that gets spammed to comments on your blog EVERY. SINGLE. DAY. Yes, it's really, really annoying. It's also not really SEO these days. Spammed blog links have been so devalued that they offer very little in the way of SEO benefit to business. It's only cheap and nasty SEO companies that rely on mass spamming.
I want to grow my blog's community through readership
SEO is simply about making your content more visible to search engines. By dismissing them, your potential readers are out there, searching for your content, interested in it, actively seeking it… but will settle for one of the massive communities in your niche if they can't find you. Let's say you blog about yummy food for toddlers with sensory issues. You have tons of insight, you have first-hand experience and lots of tips to share. You tell it like it is, you're empathetic and you're passionate about helping other parents. Your potential reader is desperate to find you but they can't, because search engines can't understand your posts. They settle for a recipe from one of the major recipe sites… no insight, no empathy… just ingredients. This IS your ideal reader. She would be a passionate and engaged addition to your readership.
SEO just means making your content clear and easy for search engines to understand – they're computers, so they can't see that your blog is insightful and hilarious… They use various signals to assess the quality of your blog. Your readership and people referring to your blog plays a massive part in attracting search engines – but when they arrive, often the blog is formatted in a way that makes it impossible to know which search results to list you in.
In effect, search engines see your blog as "This is GREAT CONTENT… if only I knew what it was about!"
SEO will ruin the flow of my blog posts
Maybe but probably not. Content optimisation is the part of SEO strategy that most impacts bloggers. Great content optimisation is about making sure that your post is well written. SEO companies do this by triggering a bunch of criteria set out by Google. As a blog writer, you are doing the hard bits without even realising. With the exception of a big old rant, most blog posts can be easily optimised without ruining anything. Simply write the post without even giving a thought to SEO. Go back, read over it. Is it made up of logical, flowing paragraphs? Does it have an introduction and conclusion? Are there a few different points of view in the content? If so, it's a post that can be optimised by adding subheadings throughout to break up the text. In fact, subheads are the preferred way for readers to consume your content – you may find that your audience LIKES a little more formatting.
Reading over the content do you see a specific problem that your content answers? Does it reply to a specific question or cover a lot of points about a specific topic? If so, that's your keyword. If your post is a "how to guide" to dealing with toilet training for boys, your target keyword will probably just be "toilet training boys". Your subheadings will be funny introductions to what's coming next… "Ready, aim, misfire! Toilet training just got gross" This is an SEO subheading… It's great to use the keyword in a sub-heading or two, but it doesn't have to be ALL about the keyword.
I don't have time for SEO
I have no clue about SEO and frankly, couldn't be bothered learning it. There's actually not much to learn to master the basics. It's quick, easy and makes a big difference. At Problogger last year, the incredibly sexy brained Rand Fishkin did a great talk on how it takes three minutes to add the quick, dirty SEO elements that users don't see on your blog. They're the bits and bobs that appear in search engines. We put together a guide to three minute SEO including a few other things you can do to up your chances of being found by your ideal reader. It's really that quick. If you have a WordPress blog, you can also just install Yoast and that will do half the work for you.
I have no intention of monetising my blog
Fair enough. You write for yourself and your readers, right? If you don't want to grow your readership, if you're just writing for yourself, or maybe for your kids to see their childhood documented then you don't need SEO. You don't even really need to click publish, you could be creating a draft blog to hand over privately some day!
Monetisation is not the only reason to grow your readership, it's about being a part of a bigger community that is passionate about what you do. Your Facebook and Insta feeds are about bringing in new community, why ignore one of the biggest drivers of traffic on Earth?  You don't need to be a part of a blogging agency to have a following!
I just want to create amazing content
Creating video and other multi-media content, writing engaging posts, being awesome… that's what search engines want too. It's not about changing the quality of your content, it's about helping search engines to understand the awesomeness. This might be as simple as adding Alt Text to images and sharing your videos to your Youtube channel or Google Plus profile. Stuff you'd do anyway, when done right can make a massive difference.
But this isn't SEO, is it?
It's not ALL of SEO, but it's the basics and the basics are what affect your blog the most. For business, "the basics" is about getting incredible content written that is actually relevant to their goals. You're already doing the hard bit, content optimisation is just the last step. When you delve deeper into SEO it's about writing content SO AMAZING that other bloggers and business owners reference it when they create content. You can do that. That's your special talent and where you have a massive advantage over business – try coming up with something SO AMAZING that the cabinet making community links to it… Not easy.
The next step might be writing a few very high quality guest posts for your friend's blogs – and referencing your own content in the post. You can do that. You have a network of blog buddies who write about related topics. For business, this is a drama because it's hard to find someone who wants a guest blog on… fitting air conditioning units.
All the usual challenges of SEO are, for bloggers, de rigour. You face none of the big problems of business, and yet blogger SEO is one of the most under represented "industries" of them all. Instead of entering this MASSIVE market as the newbie on the block, your colleagues in the blog sphere are neglecting SEO for their own blogs. The keywords are WIDE OPEN.
Lowered bounce rates, more screens per visit… all the human benefits of SEO
Content optimisation is not just an arbitrary bunch of rules – it's modelled on how humans use the internet. Blogger SEO is also about making your blog more accessible and simpler to navigate for readers. By adding links to other content you've written on a topic you'll give readers a step to take next, you'll decrease your bounce rate, up your screens per visit… but behind the scenes you're helping search engines to index all your content and throwing back signals that your content is highly clickable. Behind the scenes, search engines are just trying to make sure you are providing a quality, relevant experience for readers. Don't you want that?
So, OK, say I want to use SEO on my blog, how do I even start?
It's simple to get started but it does sometimes feel like you're out in a wilderness! There's competing information, out of date information and just bad information. Talk About Creative offers a Blogger Bootcamp that covers blogger SEO, media kit writing and other key stuff for blogger that want to eventually monetise. You're welcome to join, read more about it here.